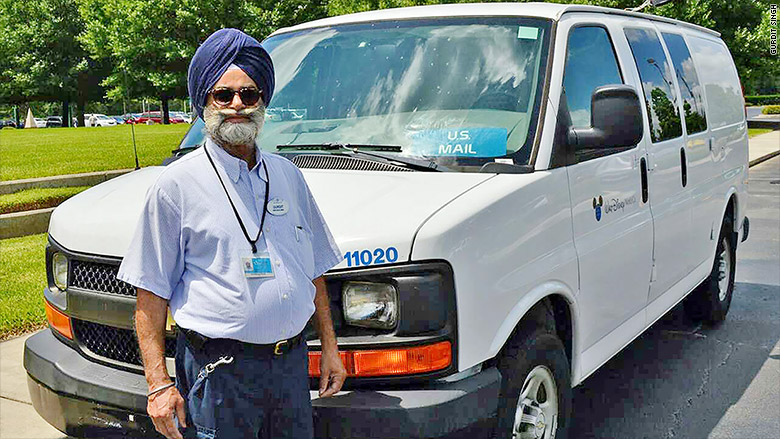 "The happiest place on Earth" just got a lot happier for one man.
A Sikh worker won his fight against Walt Disney World in Orlando, Florida, after he alleged the theme park was segregating him from the public because of his turban and beard.
Gurdit Singh, who wears the turban and beard for religious reasons, has alleged that he was forced to work a postal delivery route at the theme park that kept him out of view of Disney (DIS) tourists.
"My turban and beard serve as a constant reminder of my commitment to my faith," Singh, 57, said in a statement, adding that he was thankful Disney had changed its policy. "In Sikhism, these articles remind everybody that we're all equal. That's not just a Sikh value, that's an American value....My hope is that this policy change opens up the door for more Sikhs and other religious minorities to practice their faith freely here at Disney."
Singh teamed with lawyers from the American Civil Liberties Union and the Sikh Coalition and asked Disney in May to change its policy. The ACLU and Sikh Coalition disclosed this week that Disney had agreed that Singh now would be allowed to deliver on routes in view of the public, as all other postal workers do.
Singh had initially applied to be a doorman working directly with guests at the theme park. He was denied that position and told his "costume" didn't match Disney's "costume," according to Gurjot Kaur, Singh's lawyer from the Sikh Coalition.
Kaur told CNNMoney on Friday that her client had been segregated from the public for almost seven years, which had caused him to have a greater workload and created tension among his co-workers.
"He's extremely excited to be fully integrated and made to feel like a real person in the workforce," Kaur said. "We're excited that Disney decided to do the right thing without a lawsuit."
Singh's lawyer from the ACLU, Heather Weaver, said that while she wishes it hadn't taken seven years and outside intervention, she's glad Disney finally accommodated Singh.
"I think Disney will find that welcoming and accommodating religious diversity will be good for business," Weaver said.