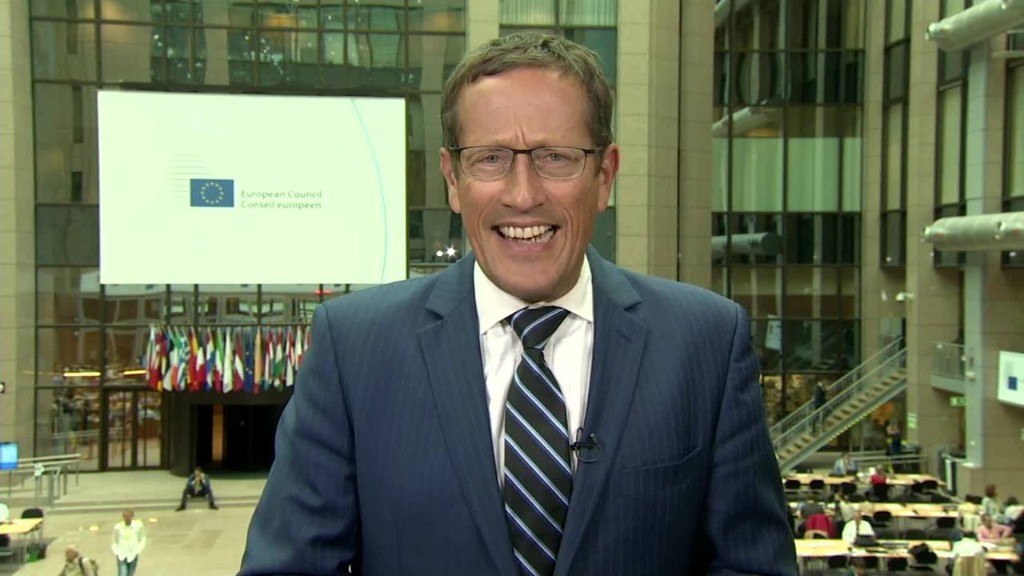 It's done. Investors have delivered a big cheer after Europe finally struck a deal to bailout Greece.
Eurozone leaders wrapped up marathon talks with an agreement after Greece said it would enact deep economic reforms under close supervision by its creditors.
The deal -- if ratified -- should prevent a chaotic Greek exit from the euro, an unprecedented event that would have shaken Europe to its core.
Related: Greek bailout: Europe strikes a deal
European stocks notched solid gains following the news. Germany's DAX index added 1.3%, France's CAC put on 1.3%, and the U.K.'s FTSE index added 0.7%.
The euro trimmed earlier losses to trade around $1.11 against the U.S. dollar.
Bonds in Greece and other peripheral euro nations bounced on news of the deal.
Yields on Greek 10-year bonds fell sharply. Yields on Spanish and Portuguese government debt also fell, while German bonds -- seen as a safe haven -- rose. Bond yields and prices move in opposite directions.
Asian markets, some of which closed before the deal was reached, ended with solid gains.
Japan's benchmark Nikkei index jumped 1.6%, while Seoul's KOSPI Composite climbed 1.5%. The Shanghai Composite added 2.4%.
Investors continued to weigh the impact of turmoil in China's stock markets. Those markets rebounded on Monday, building on solid gains made at the end of last week. Stocks are likely to remain volatile this week.
Asia is relatively well insulated from both Greece and China. Should either crisis worsen, however, investors may pull their money out of riskier investments and direct it toward perceived safe havens, including the U.S. dollar.