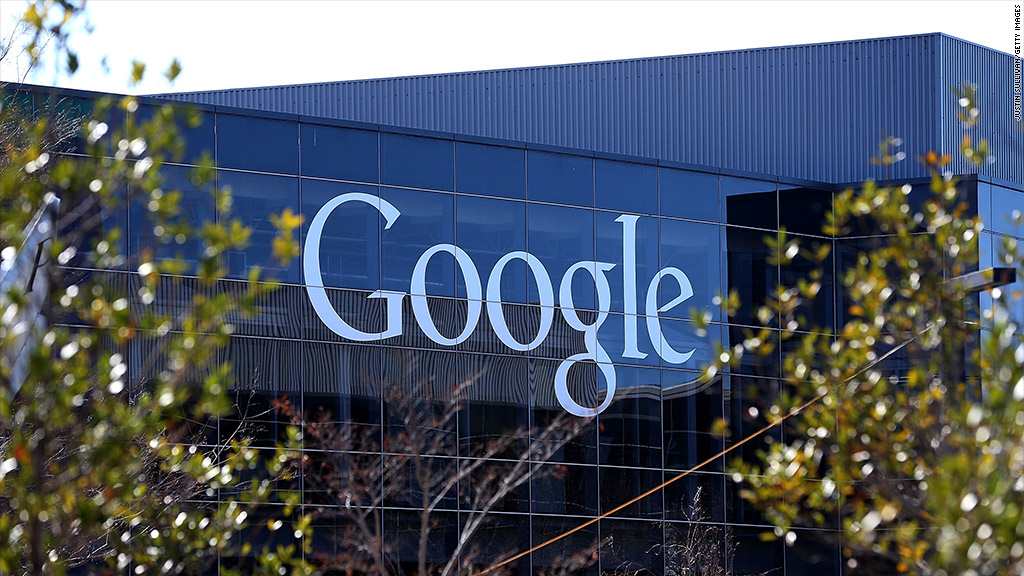 Giddy up! The Four Horsemen of Tech -- Google, Apple, Amazon and Facebook -- helped push the Nasdaq to an all-time high Friday morning.
Google (GOOGL) led the charge, surging 15% after the company wowed Wall Street with its latest earnings. It's the best single-day performance for the stock in nearly seven years.
Google is now at a record high. Amazon (AMZN) and Facebook (FB) hit new peaks as well.
And Apple (AAPL), which will report its latest quarterly results next week, is now just 4% below its all-time high following an early summer slump.
These Four Horsemen dominate the Nasdaq. They are the tech equivalent of Triple Crown winner American Pharoah. Or his jockey, Victor Espinoza? He's the actual horseman after all.
Either way, these four are collectively worth nearly $1.7 trillion and are expected to report sales of more than $425 billion this year.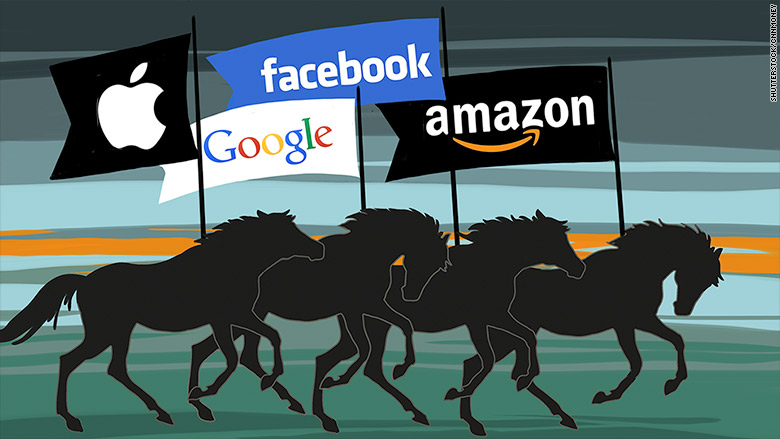 Sure, you could quibble and say that Amazon isn't really a tech company. Or that Microsoft (MSFT) should be one of the Four Horsemen since it is worth more than Amazon and Facebook.
But Apple, Amazon, Facebook and Google are undeniably leaders in their respective markets -- and their stock performance this year shows that.
Related: How Apple could make a $53 billion profit this year
Apple is the laggard of the group because its shares are up only 17% in 2015. Facebook has gained more than 20%. Google, thanks to Friday's huge pop, is now up 30%. And Amazon has soared 55%.
So what's next for these fabulous four?
Apple is the only one of these stocks that could be considered a bargain. It trades for just 13 times earnings estimates for next year. The company is the only one of these four that also pays a dividend.
Related: Par-tay! Consumer stocks lead way in latest bull run
And don't worry about all the talk of Apple Watch sales being lackluster. Next week's earnings should show that iPhone demand is still ridiculously strong.
Google now trades for more than 20 times 2016 profit forecasts thanks to Friday's big move. But for the first time in a while, Google is living up to the hype.
The latest earnings showed strength in mobile and online video advertising. And Wall Street loves that new CFO Ruth Porat (formerly of Morgan Stanley (MS)) is promising to be more disciplined when it comes to expenses.
Related: Amazon sales soar on Prime Day -- despite complaints
Amazon is the toughest of these four to recommend. Its valuation is obscene -- more than 170 times 2016 earnings estimates. Some would argue that Amazon needs someone like Porat to keep Jeff Bezos from spending too much.
But Amazon is doing extremely well. The company touted strong sales for its Prime Day event this week --- even though most of the reaction on social media about the deals was negative. And Amazon has now been overvalued for 20 years. So Bezos is obviously doing something right.
Finally, there's Facebook. It doesn't report earnings until July 29. But investors are clearly expecting extremely strong results. Wall Street is impressed by how quickly Facebook has become a mobile advertising giant. It looks like Facebook is going to give Google's YouTube a run for its money in digital video as well.
And nobody is criticizing Mark Zuckerbeg for the company's acquisition strategy. Instagram and WhatsApp are helping add even more users -- and stay relevant with younger people.
Related: Facebook is taking on Amazon with shopping pages
So it's hard to bet against any of these four giants right now. But keep in mind that tech is one of the most fickle industries out there -- from a consumer and investing standpoint.
In addition to Microsoft, there was a time when experts thought Cisco (CSCO), IBM (IBM), Intel (INTC), HP (HPQ), Dell (now private), EMC (EMC), Oracle (ORCL) and Sun Microsystems (now owned by Oracle) were among the Four Horsemen.
Could companies like Netflix (NFLX), Alibaba (BABA), GoPro (GPRO) and Salesforce (CRM) eventually become one of the Four Horsemen of Tech?
Heck, if you look at the valuations of the biggest "unicorn' startups, we could be talking about Xiaomi, Uber, Snapchat and Airbnb being the new Four Horsemen in five to 10 years.
So unlike War, Famine, Pestilence, and Death (why are the tech giants nicknamed for harbingers of the apocalypse by the way?) tech companies don't get granted lifetime membership in the Four Horsemen club.
But for now at least, Apple, Amazon, Facebook and Google are galloping way ahead of the rest of tech.