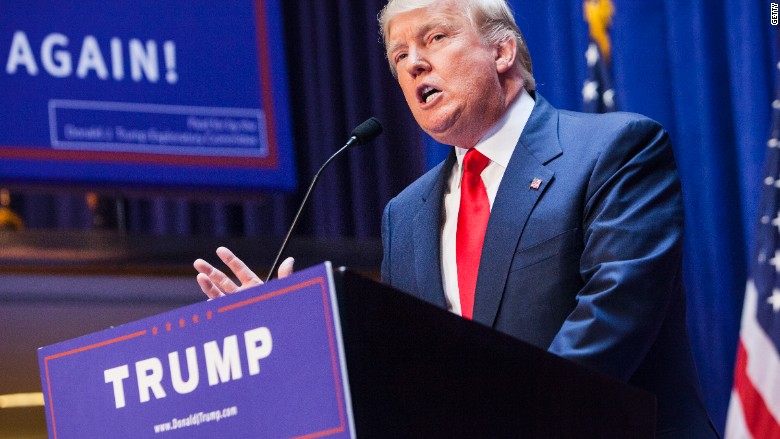 New York City's mayor has had enough Trump, thank you.
During a press conference on Monday, Mayor Bill de Blasio said that while he's uncertain whether the city can break several existing contracts with the Republican presidential hopeful, one thing is clear: There will be no future deals between the Big Apple and Trump.
"My impression is that unless there has been some breaking of a contract or something that gives us a legal opportunity to act, I'm not sure we have a specific course of action," de Blasio told reporters.
"But we're certainly not looking to do any business with him going forward," the mayor added.
For several weeks -- since Trump made derogatory comments about Mexican immigrants -- New York City has been analyzing whether it can get out of several current contracts with the developer, including those involving a golf course in the Bronx, the Central Park carousel, and two rinks. The mayor indicated on Monday he had yet to receive a final report.
New York City Councilman Mark Levine also has begun circulating a petition calling on the city to sever its ties with Trump.
"Our parks are for everyone," the Manhattan Democrat said. "Trump's continued ownership of parks concessions runs directly contrary to that spirit."
Over the last few weeks, a number of companies have ditched Trump, including Macy's, Univision and Serta mattresses.
On Monday, De Blasio also took the opportunity to blast Trump for his comments over the weekend that Sen. John McCain is not a war hero.
"What Mr. Trump said about Senator McCain was unacceptable," the mayor said. "Senator McCain is a war hero by any measure, and [Trump] really should apologize for that. And I've said repeatedly, Donald Trump doesn't represent the views of the people of this city -- certainly not of the majority."
De Blasio added, "But this is an issue for folks in the other party to work through. I just think what he said in the last few days was reprehensible."