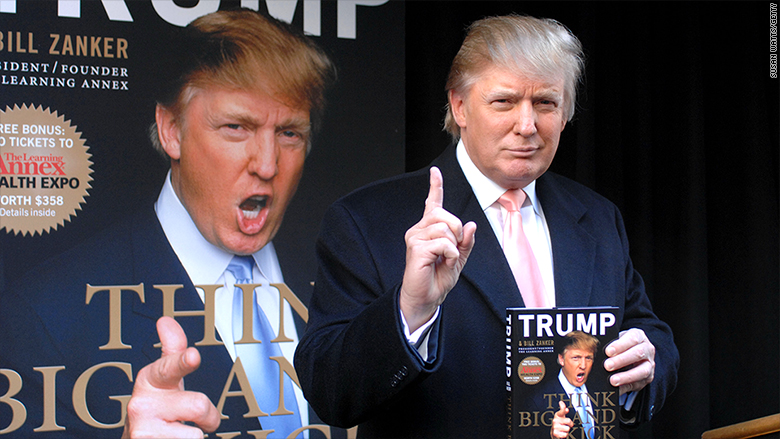 Donald Trump, candidate, mogul and author of classics such as Think Big and Kick Ass, has pulled back the financial curtain on his vast, often eponymous holdings.
But his 92-page disclosure forms released Wednesday don't actually clear up the confusion about his true wealth.
It's a touchy subject that dates back at least to 2006, when Trump sued Tim O'Brien, author of TrumpNation, because O'Brien reported a much lower net worth figure for Trump than Trump himself asserted. Like, a tenth less.
The suit was eventually dismissed. But O'Brien noted in a Bloomberg column that when his lawyers asked Trump how he figured his net worth, Trump said it "goes up and down with markets and with attitudes and with feelings, even my own feelings."
Fast forward to 2015, and The Donald has been asserting his net worth is $10 billion. Forbes and Wealth-X have put it at closer to $4 billion.
The official disclosure forms just released don't require exact values placed on assets and liabilities but rather ranges. The top range that one can report is "over $50 million."
Based on CNN's analysis of Trump's disclosure forms, he reported at least $1.4 billion in assets and $265 million in liabilities.
Let others quibble about his net worth. Is he or isn't he worth $10 billion? Anything over $100 million and let's just agree he's rich.
But we found it interesting that:
Trump's book royalties alone trump most Americans' annual household income: He lists 15 books on his official financial disclosure forms. But only four generate any income. Combined, Think Like A Champion, The Art of the Deal, Time to Get Tough and The Midas Touch brought in between $85,000 and $215,000.
Turns out talk isn't cheap: Trump has pulled in $1.75 million in speaking fees between May 2014 and March 2015.
The man really, really likes his name on the door: Of the 515 entities for which Trump lists himself as chairman, president, vice president, director, partner, member, secretary or treasurer, 276 (54%) of them have "Trump" in the name.
Related from CNN: This is how rich Trump is
Another 63 entities are listed by acronyms beginning with a "T" which often stands for Trump -- e.g. THC (Trump Hotel Collection).
Trump gets a pension: That's a relief. Real estate, after all, is a risky business. But thanks to the Screen Actors Guild, Trump will be entitled to $110,228 in pension income. It's not clear from the form whether that's a total payout to date or an annual event. The value of the pension as an asset is listed as "not readily ascertainable."
His "Apprentice" salary fell a little shy of his campaign's claim: According to Trump's financial disclosure forms, he earned $14,222 from his NBC show, "The Apprentice," although over what period is unclear. But his production company, "Trump Productions," earned production revenue of over $4 million. In any case, it comes in well below the average $15.2 million his campaign suggested he earned per season over the past 14 seasons.
His wife can tide him over for a week if need be: Trump's wife, Melania, has her own skin care line that brought in royalty income between $100,001 and $1 million.
He put money on the ponies and won big: Trump owns Trump Carousel LLC, which operates the storied Central Park Carousel. One go-round costs $3 per person (cash only, please). From that he reported nearly $600,000 in income. More lucrative for him is the nearby Wollman Rink, which his Wollman Rink LLC operates. It generated close to $8.7 million in income likely thanks in part to admission fees of $11.25 for adults and $6.00 for kids during the week, more on weekends. Spectators must cough up $5. Did we mention, cash only?
CNN's Adam Levine contributed to this report.