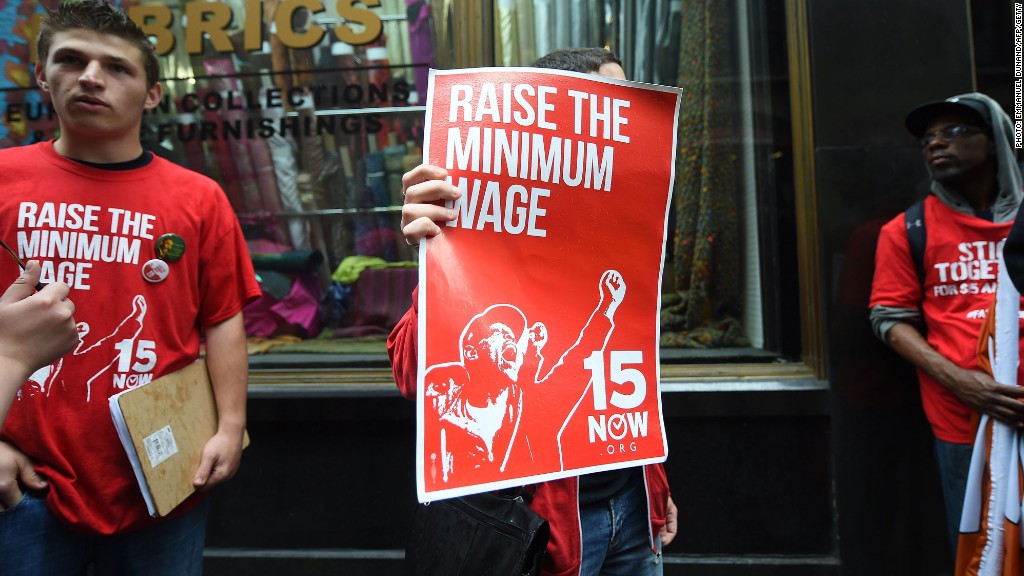 Over 1,000 JFK and LaGuardia airport workers are expected to walk off the job Wednesday night to protest for higher wages and the right to unionize.
Airport security officers, baggage handlers and wheelchair attendants work for Aviation Safeguards, primarily a Delta (DAL) subcontractor, are not unionized. But an announcement from the local service workers' union, which is helping the workers organize, says they've voted to strike.
The union says it gave the airports gave a week's notice about the strike, but local president Rob Hill acknowledges that there may be some service may be disrupted.
"We attempted not to cause disruption for passengers but at some point, the workers had to make a decision about families and the future."
Delta declined to comment.
Related: New York fast food workers' $15 wage vote on Wednesday
While New York's fast-food workers are poised to win a $15 minimum wage following a vote by the state's Wage Board on Wednesday, these airport workers just got a raise to $10.10 an hour back in February. That wage, which is set by the Port Authority, is above the New York State minimum of $8.75 but still a long way from $15.
About 300 Aviation Safeguard employees will start picketing at JFK Terminal 7 at 10 p.m. on Wednesday night, according to the union. On Thursday morning, the protest moves to LaGuardia.
"We are not anti-union. We are pro-employee," said Craig Coy, CEO of Command Security Corporation, which is Aviation Safeguard's parent company.
Coy is confident that most employees won't participate. But the union's Rob Hill says an "overwhelming majority" of 1,200 Aviation Safeguard employees voted to strike.