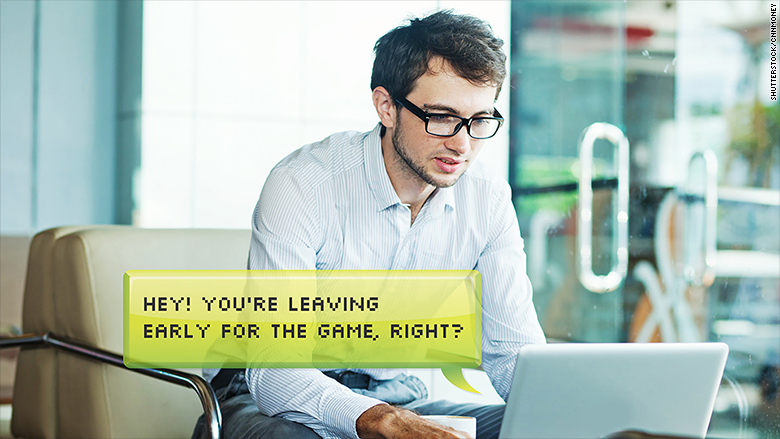 Frequent promotions and raises. Supportive environments. Transparency. Flexible schedules.
Who doesn't want those things at work?
But until Millennials came along, employers weren't exactly heeding the call. Now many are -- even traditional blue chips like General Electric.
Millennials, according to various estimates, will make up a majority of the workforce after 2020 -- a stat that's not lost on employers.
At some companies the shift is even more dramatic. Consulting firm PwC estimates that by next year, a jaw-dropping 80% of its global workforce will be Millennial.
And surveys suggest these young adults are really not into the ladder-climbing rules and life-sucking schedules of their parents' careers.
So employers large and small are making changes to position themselves as Millennial magnets.
Related: GE now offers unlimited vacation
Let you work around your life: Consultants traditionally have had to sacrifice all for the client -- even when the client was located in another city or state.
Now rather than drive you into the ground, some employers' ethos seems to be "Let's try to keep you around."
"We've all smartened up," said Anne Donovan a managing director at PwC and the firm's talent transformation leader.
PwC wants associates to "expect" that their team will try to accommodate their personal needs -- whether it's going to a yoga every Tuesday or attending your kids' weekly games.
For road warriors, teams assess whether everyone needs to be on site at the client's every week or if the work can get done by alternating which team members have to go. Also, will the work suffer if those traveling arrive on Monday afternoon instead of Monday morning? If not, they can sleep at home on Sunday nights.
"We're trying to create a guilt-free zone," Donovan said.
At McKinsey, employees are allowed to take 5 to 10 weeks between projects to pursue their personal interests. It's unpaid time but they get to keep their benefits. And it's on top of regular paid vacation time.
Then there's the firm's Pace Program, which gives consultants more control over their career trajectory, said Caitlin Storhaug, McKinsey's head of recruitment marketing. It replaces the "up or out" model that meant people had to leave if they didn't advance at regular intervals.
Related: Top employers for new grads
More frequent promotions and raises: Progress. Millennials at work are eager to see it early and often.
So some clients of Mercer, a global consulting firm, have responded by changing the frequency with which they give promotions and salary increases.
It used to be that an employee might progress from Job A to Job B. Now instead of one big jump after a few years, it's broken into smaller jumps more quickly: From Job A to A1 then A2 before hitting B. And the accompanying pay raise is similarly made more incremental.
"It's administratively a little more complex. But it could be a win-win because you're recognizing good performance and employees feel they're progressing," Ilene Siscovick, a partner in Mercer's talent business.
No more "3"s please: No one likes to be a number. But Millennials specifically are not keen on getting "3"s in performance reviews even though it's a fine rating that typically means "meets expectations," Siscovick said. To Millennials, a "3" screams "average."
So many employers have moved away from numbers in their reviews to more qualitative assessments.
And to meet Millennial desires to be given feedback more frequently, the annual review is often supplemented now by quarterly and monthly reviews and even on-the-spot feedback.
Even GE -- once notorious for its rank-and-yank system, which mandated the bottom 10% of performers be fired -- has moved away from numeric ratings. Its businesses are now experimenting with more frequent, qualitative and even immediate feedback options as part of the company's switch to "performance development."
Related: How to get a raise at the new manager-free Zappos
More freedom: After a commissioned group of Millennials told GE what they wanted to see in company culture, the firm is trying to move from a "command and control model" to a faster, simpler culture where individual teams have more autonomy to experiment and make decisions.
Some companies are already natural Millennial magnets because they're set up to encourage a fluid, entrepreneurial approach to work.
Barr Engineering Co., an employee-owned consulting firm in Minneapolis, has a "free-market structure," said Cathy Klopp, the company's HR generalist.
Employees don't have bosses per se, but choose the projects they want to work on. If they sign up as individual contributors they'll report to the manager of the chosen project. But on other projects they may serve as manager.
When they log long hours, they may choose to be paid for the overtime or take comp days.
Marketing firm Sundog Interactive, in Fargo, ND, also encourages its 90 employees -- about half of whom are Millennials -- to do what they love.
The goal: "[Put them] in positions where their talents are best used and where they find meaning in their work," said Justin Welk, Sundog's talent coordinator. "The battle cry here is talent over title."