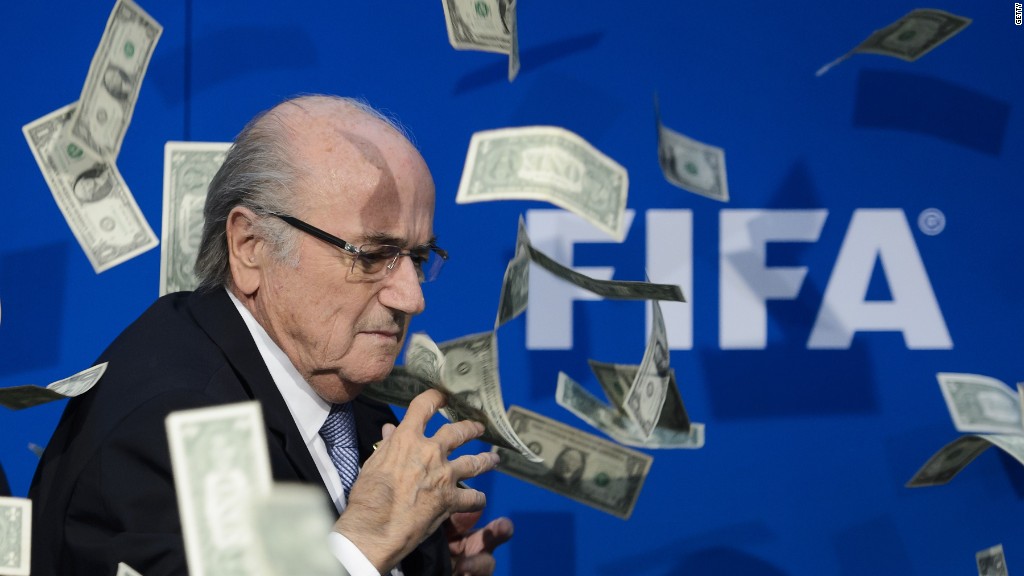 The pressure is piling on FIFA.
Visa (V), one FIFA's top-tier sponsors, said the scandal-ridden global soccer organization needs to get rid of its leaders and undertake a deep reform, joining Coca-Cola (CCE), Adidas (ADDDF), Anheuser-Busch InBev (AHBIF) and McDonald's (MCD) in their fierce criticism of FIFA's outgoing president Sepp Blatter.
"We believe no meaningful reform can be made under FIFA's existing leadership," Visa's CEO Charlie Scharf said. The comments add pressure on Blatter, who said he would stay in his role until February despite calls for his departure.
FIFA was rocked by charges of corruption involving several senior officials in May. The most serious racketeering charges allege that the officials turned soccer "into a criminal enterprise."
Related: Coca-Cola pushes FIFA for independent reforms
Scharf called FIFA's response to the crisis "wholly inadequate," saying FIFA continues to "show its lack of awareness of the seriousness of the changes which are needed."
Blatter announced Monday he was proposing a "reform taskforce" made up of 11 members and to be headed by an "independent personality." He also said the soccer organization's executive committee would be subjected to "enhanced, centralized integrity checks" to be conducted by FIFA's ethics committee.
But the sponsors are demanding a fully independent reform commission. FIFA announced Friday it would meet all of its sponsors in August to discuss its reform plan.
On behalf of Budweiser, an Anheuser-Busch spokesperson said: "The turnaround should consist of adequate, robust and transparent reforms, led by an independent third party commission and implemented without delay."
Adidas and Visa paid an average of $32 million a year for their partnership deals with FIFA, while Coca-Cola, McDonald's and Budweiser forked over an average of $19 million each, according to estimates by IEG, a consulting and research firm.
A New York bank regulator said Thursday it wanted banks to hand over information on how FIFA money was routed as part of an investigation into whether the financial firms did enough to ensure regulations weren't violated in connection with alleged money laundering by FIFA executives.
CNN's Chris Liakos contributed to this article.