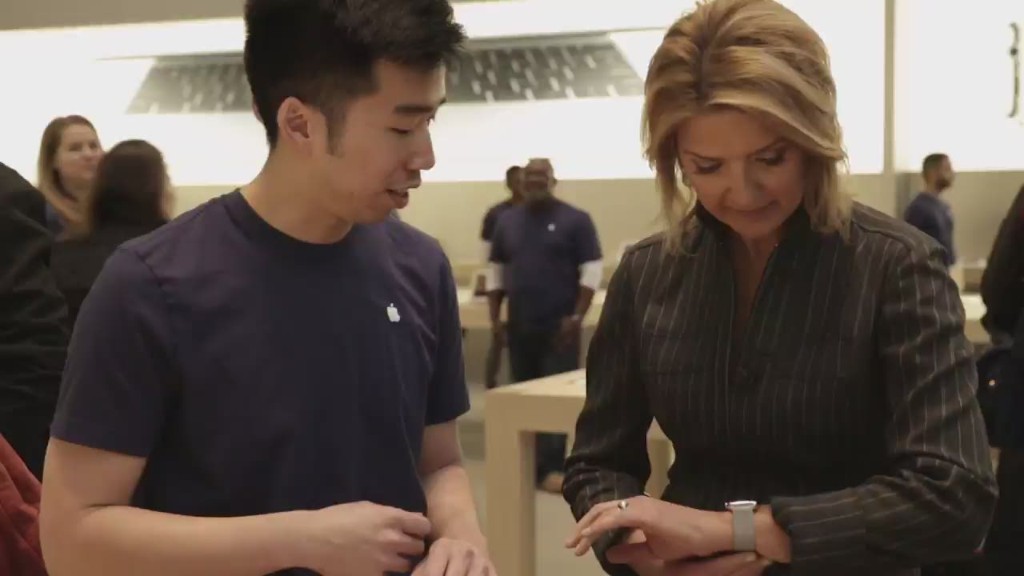 There's a new way to get the Apple Watch -- you now can buy it at Best Buy.
Apple's first wearable device went on sale Friday in Best Buy's retail and online stores.
Initially, 100 stores will have the Apple Watch in stock. By the time the holiday season rolls around, another 200 stores will carry it.
Best Buy has more than 1,400 stores and locations nationwide.
"The Apple Watch is a big addition to our stores and website, and we know our customers want it," Jason Bonfig, senior category officer at Best Buy, said in a statement earlier this month.
So far, the watch has showed little promise since its release. Demand was reported to be low. But Apple (AAPL) said that watch sales exceeded its expectations in third quarter.
Although Apple's third quarter earnings did not break down watch sales, looking at the 'other' category figures, the device brought in almost $1 billion in sales last quarter.
CEO Tim Cook attributed much of the soaring demand to the last two weeks of June, when the Apple Watch debuted sales in the Apple stores too. Until then, the tech giant allowed consumers to try the watch in-store but the purchase could be made through Apple's website only.
Related: How Apple could make $53 billion profit this year
If in-store demand has truly created an upward spike in sales, a move into a national retail chain will likely be beneficial.
Even though Cook said he's satisfied with the Watch's sales performance so far, he said his focus is on gearing up for the holiday season, during which he anticipates the Watch will be a top-seller.
"We feel really good about how we did," Cook said. "Our objective wasn't primarily sales; we're more excited about how the product is positioned for the long term."