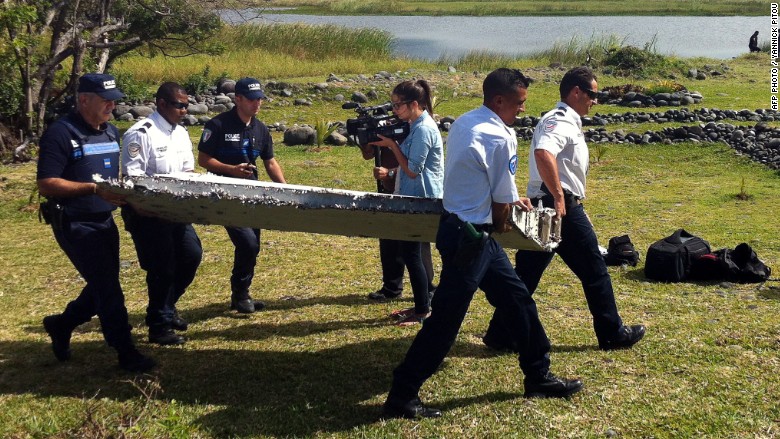 Could this be the key to unlocking the MH370 mystery?
Authorities are increasingly confident that debris washed up on the shores of a remote island in the Indian Ocean is from the Boeing 777 that vanished nearly a year and a half ago.
But not much has changed for the families of the 239 people on board. The cause of the plane's disappearance is still not known. And although Malaysia has declared the flight's crew and passengers dead, many families refuse to accept that their loved ones may never come back until they see evidence.
Lawyers say that without a definite answer to the mystery, and no bodies to bury, it is difficult for the families to move on with compensation claims.
"In normal cases, once death certificates are issued, we can progress with the claims, but here, most families don't want to get death certificates," said Justin Green, whose firm Kreindler & Kreindler represents 48 families. "These families haven't had the funerals, they haven't had the chance to mourn, their lives have been on hold."
Time is running out. Under international treaties, families have to make a claim against the airline within two years of the plane going missing.
"My legal recommendation to my clients since the plane has been declared missing was to progress with the claim," Green said.
But for them to do that, they would have to admit their loved ones are dead.
Related: Anger over Lufthansa crash compensation offer
Under international treaties, the airline is ultimately responsible for the passengers. Without any explanation for the cause of the tragedy, Malaysia Airlines is likely to bear the cost of the compensation claims.
The airline has offered initial compensation of $50,000.
"Until recently, there has been a low take-up of the advance compensation payment as a majority of the next of kin are hopeful for the safe return of their loved ones," a Malaysia Airlines representative said.
The lawyers said they hope the airline will offer compensation the families can accept. If not, a series of multinational lawsuits could follow.
The compensation could vary significantly from family to family, depending on each passenger's situation, their age, relationship status, employment and income. With passengers and crew representing 14 different nationalities, there will be legal differences that could also determine the size of the payment.
So far, families have been reluctant to put a figure on their loss. Only one Malaysian family has reached an out of court settlement.
Jiang Hui, a relative of a MH370 passenger, told CNN most families have not even made their claims yet.
"We want the truth, without truth there is no party liable, without party liable, you wouldn't know how much responsibility should be taken."
Malaysia Airlines said its insurers would cover "all reasonable costs" related to the case.