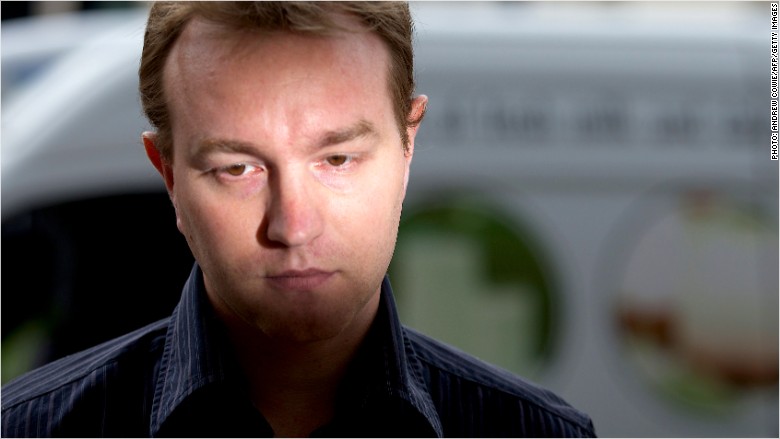 The first banker to be tried in connection with a global conspiracy to rig interest rates has been sentenced to 14 years in jail.
A London court found Tom Hayes guilty on eight counts of conspiracy to defraud between 2006 and 2010.
The former UBS (UBS) and Citigroup (C) trader was the first person to stand trial in Britain for rigging the London Interbank Borrowed Rate, known as Libor. It's a rate that is used globally to price financial products, such as mortgages, worth trillions of dollars.
The scandal savaged the reputations of several major banks and brokers, and undermined London's status as a financial center.
The banks have already paid billions to settle with regulators in the U.S. and Europe over the Libor scandal.
Hayes, 35, was charged in 2013 following a year-long investigation into the market manipulation.
Related: Deutsche Bank in $2.5 billion settlement over rate-rigging
The verdict is a big win for the U.K.'s Serious Fraud Office, which prosecutes cases of complex fraud.
The SFO said Hayes had repeatedly asked rival traders and brokers to help fix Libor rates in yen to suit his needs, and offered to reward them for their efforts.
"The jury were sure that in his admitted manipulation of Libor, Hayes was indeed dishonest," SFO director David Green said in a statement. "The verdicts underline the point that bankers are subject to the same standards of honesty as the rest of us."
Back in 2013, court documents showed the conspiracy to rig rates went far beyond any one trader at UBS.
The investigation revealed extensive misconduct stretching from 2001 to 2010 involving at least 45 UBS staff -- including senior managers, who sought to influence rates to benefit the bank's trading positions and make it look stronger during the financial crisis. The bank also colluded with other firms.
The SFO is pursuing a number of other Libor cases in London. Next month a pre-trial hearing will be held in a case concerning six brokers, while proceedings against six former Barclays (BCLYF) employees are due to commence in January.
Still, no senior banking executive has yet been charged.
"For the culture of the financial services industry to change a threat of sanctions on individuals must be imposed," said Mark Taylor, professor of finance at Warwick Business School and former Bank of England economist.
"Unethical behavior has been left unchecked in the City [of London] for too long and this is hopefully the start of that being reversed and London's reputation being restored."