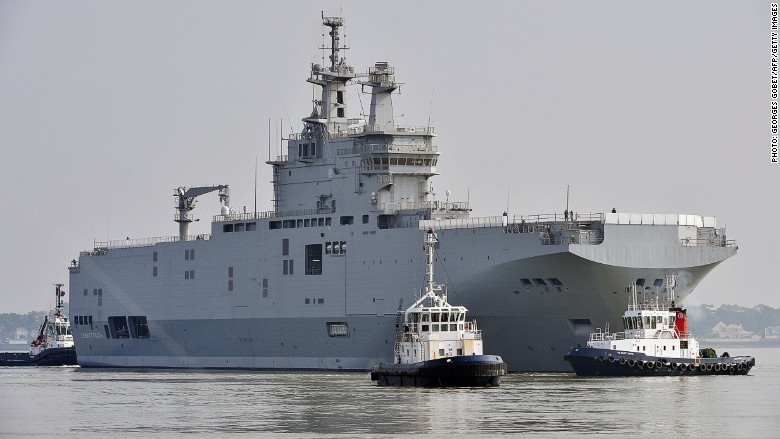 France won't be sending warships to Russia.
The two countries have terminated a contract worth 1.2 billion euros ($1.3 billion) for France to supply two Mistral-class amphibious assault ships to Russia.
The deal was signed in 2011 but France faced pressure to withdraw from the arrangement after Russia annexed Crimea from Ukraine. The French government suspended delivery of the ships last year.
Russian President Vladimir Putin and French President Francois Hollande said in a joint statement that the parties had reached a "mutually acceptable agreement."
Related: Russia to burn banned Western food
Russia will be reimbursed for money already paid under the contract, and France will retain ownership of the helicopter carriers. Russian media reported that more than one billion euros had already been deposited in a Russian bank account by France.
Western sanctions imposed on Russia over its actions in Ukraine contain restrictions on the arms trade. But existing contracts -- which included France's Mistral deal -- were allowed to go ahead.
Russia is still investing heavily to beef up its own military capabilities.
Last year, President Putin outlined plans to spend more than 20 trillion rubles to bring equipment up to date by 2025. Defense and national security were the only departments to escape heavy budget cuts despite a damaging economic crisis that has forced Russia to slash spending.