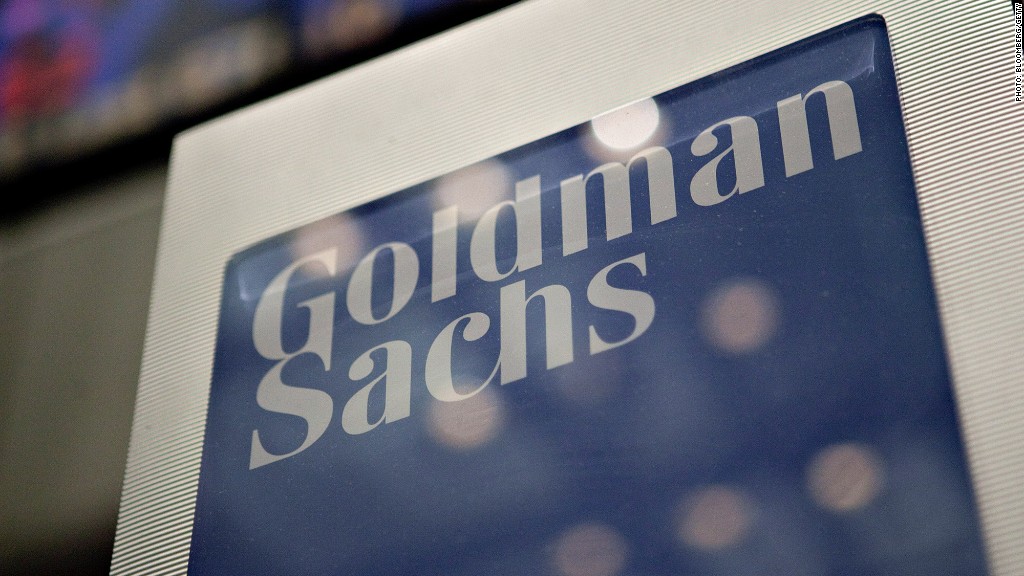 Meet the new Goldman Sachs. Not the same as the old Goldman Sachs?
In the span of a few hours late Thursday, Goldman said it was buying $16 billion in online deposits from GE and also agreed to sell its Colombian coal mining assets to privately held Murray Energy.
The two deals show how Goldman (GS), the so-called Vampire Squid of Wall Street, is trying to be a little less like a deep-sea cephalopod that feeds on waste and more like an average friendly local bank.
So is Goldman turning into Nemo, a loveable clownfish?
Not exactly.
Goldman said that the purchase of deposits from GE (GE), which is rapidly unwinding its GE Capital financial arm in order to focus more on its industrial and healthcare businesses, will give it another new source of funding.
Related: Need a loan? Try Goldman Sachs
That has been a priority for Goldman since the 2008 financial crisis. Goldman, along with rival Morgan Stanley (MS), officially became federally chartered banks in the midst of the Wall Street meltdown seven years ago.
But don't expect Goldman to set up savings and loan branches in Smalltown, USA that offer free toasters to checking account holders anytime soon. (Merry Christmas, Bedford Falls!)
Goldman still generates most of its revenues and profits from traditional Wall Street activities like advising companies on mergers, underwriting initial public offerings and corporate debt sales as well as stock and bond trading.
Related: Goldman CEO Lloyd Blankfein is now a billionaire
So what about that coal mining sale? It was widely expected. Goldman had reportedly been looking for a buyer for about a year.
Many banks have been pressured by regulators and lawmakers to cut ties to the physical commodities business in the wake of the Dodd-Frank laws that overhauled the financial sector. Why does a bank need to own a coal mine in the first place?
But simple economics have been a factor as well. The implosion in many commodity prices -- especially coal -- has made owning mines far less profitable for big banks.
Still, there are other signs that Goldman may be changing its ways. The days of ginormous bonuses may be over.
Goldman said in its second quarter earnings report last month that compensation and benefit expenses fell 3% from a year ago.
This so-called bonus pool shrank even as Goldman was adding more employees.
Related: Austerity on Wall Street? Banker pay is down in second quarter
Goldman had 34,900 staffers at the end of the second quarter, up 8% from a year ago. So the average compensation per employee is 10% lower than the same period in 2014.
Of course, that figure is still extremely high. Goldman set aside an average of $109,140 per employee in the second quarter. But it's a far cry from the average of $212,718 per employee in the second quarter of 2006 -- when Wall Street was booming.
Goldman and other Wall Street banks have also adopted some new employee-friendly policies to try and reduce stress and burnout.
Banker hours are still grueling though ... and that's one reason why more and more MBA students -- and even Wall Street veterans -- are shunning the financial sector for Silicon Valley and the tech scene.
But the financial industry has undeniably gone through a major transformation since the 2008 credit crunch. Companies are taking on less risk. Investors are rewarding the banks that behave like boring banks.
The SPDR S&P Regional Banking ETF (KRE) is up 6% this year, a little better than Goldman's year-to-date gains.
And Wells Fargo (WFC), which has the least exposure to Wall Street of the six major U.S. banks, is now the most valuable bank in the country as well. It's worth nearly $300 billion.
So don't be surprised if Goldman takes more steps to emphasize mundane banking activities like making loans and taking in deposits.