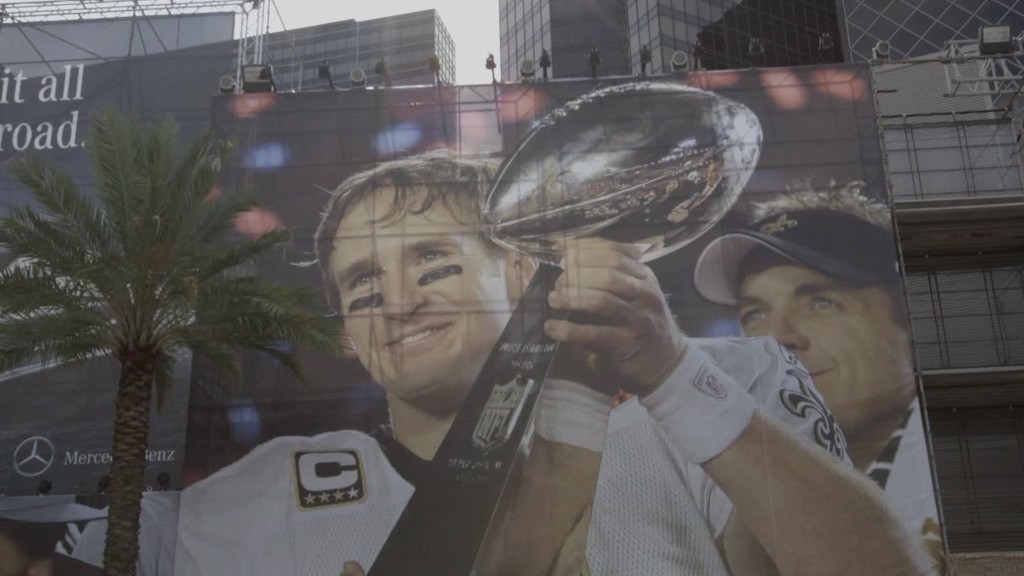 Football star Drew Brees says the city of New Orleans has been resurrected from the dead.
He moved to the city a decade ago, when it was still reeling from Hurricane Katrina. It was six months after the storm, and he describes it as a ghost town. There were boats in the middle of the road, and cars upside down in people's living rooms.
It wasn't just the city that had to make a comeback.
"A lot of guys came here in 2006, including myself, as somewhat of castaways," he said. "Many of us did not have many other options."
Brees had been let go by the San Diego Chargers due to a shoulder injury. The Miami Dolphins had been interested in bringing him on, but were counseled against it because of his shoulder.
The New Orleans Saints was the team to put an offer on the table.
"We chose New Orleans because we felt like we could do something special down here," he said. He moved to New Orleans with his wife Brittany, and he soon developed a close tie to the city.
"We leaned on each other in so many cases," he said of his fellow New Orleanians. "As people are trying to rebuild their homes, rebuild their lives, they're still coming to games to cheer on the Saints because it just gives them so much energy and enthusiasm ... just this feeling that we're all in this together."
Every time the team stepped on the field and won a football game, it captured the spirit of the entire city, he said.
There's a certain game that sticks out. It was 2009, and the Saints were playing the Indianapolis Colts in Super Bowl XLIV. The Saints won the game, and Brees was awarded the Super Bowl Most Valuable Player Award. The team was welcomed back to the city by thousands of fans, and -- in true New Orleans style -- a blues band.
"When we won that Super Bowl, it was that culmination of all those ups and downs, all those hardships," he said. "[It was] just that sheer elation of, we've done it, and we've done it together."
Since then, Brees has not just continued to play, but has also developed a charitable foundation that provides care, education and opportunities for families in New Orleans and beyond.
"The party lives on," Brees said. "But it's bigger and better."