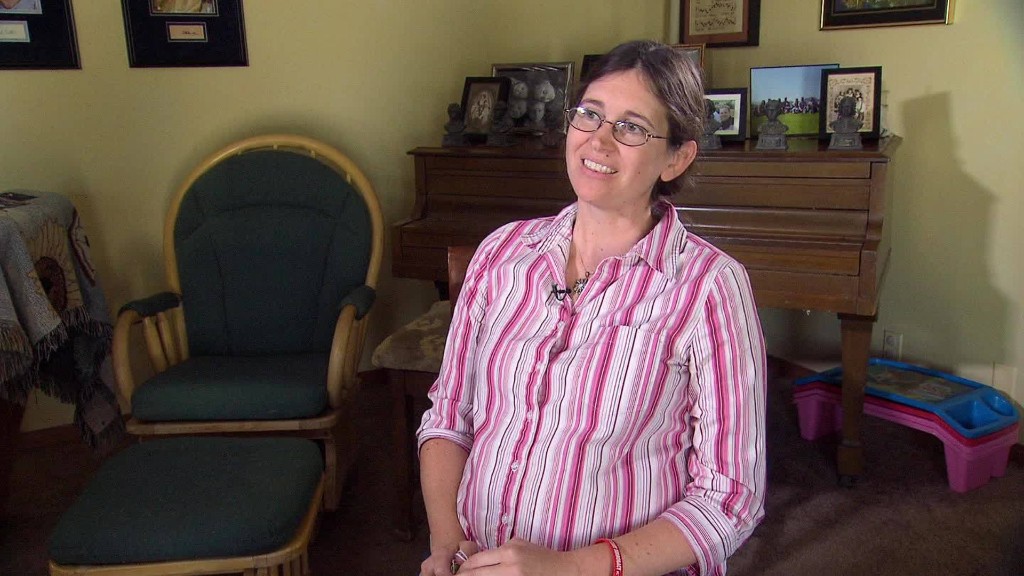 After years of hoping for a baby, Linda Zhang was heartbroken to learn that she and her husband couldn't conceive. She considered tapping China's underground surrogacy network, but was put off by the risks.
"Then I heard from friends in the U.S. that surrogacy laws and medical procedures were more advanced there, so I decided to go to America to find a surrogate," Zhang said.
Fourteen months later, Zhang and her husband flew back to Shanghai with their newborn son.
The Zhangs are part of a growing number of Chinese families that are hiring American women as surrogate mothers, spawning a lucrative industry that spans two continents.
"I've never seen anything like what I've seen with the Chinese," said John Weltman of Boston-based agency Circle Surrogacy. "It's like an explosion."
Paying Americans to carry their children allows Chinese to circumvent their home country's restrictive policies on reproduction -- surrogacy is illegal, and despite recent reforms, families still face penalties if authorities learn they have more than one child.
Another incentive: The child is automatically a U.S. citizen, and can sponsor their parents for a green card on reaching the age of 21.
While there is currently a debate in the U.S. over birthright citizenship, surrogacy centers interviewed by CNNMoney said they carefully screen applicants, and require couples to demonstrate a medical reason for seeking surrogacy.
Word spreads
In the U.S., Zhang, 43, worked with Extraordinary Conceptions, a surrogacy center that helps clients meet with doctors, consult lawyers and find surrogate moms. While some couples are able to use their own eggs and sperm, those that need to seek donors tend to look for eggs from women of Chinese or other Asian ethnic backgrounds, Weltman said.
The entire surrogacy process typically takes about 15 months and requires couples to make a few visits to the U.S. In total, Zhang paid around $130,000 -- roughly in line with fees charged by other surrogacy providers, though costs can balloon to around $150,000.
Extraordinary Conceptions has worked with hundreds of couples from China and receives as many as 10 enquiries a month. About 40% of the center's clients are Chinese, and the group has even hired five native speakers to cope with the surge in interest.
"It's like anything else -- once somebody discovers something, and word spreads, people realize there is another option," said Mario Caballero, executive director of Extraordinary Conceptions.
Related: Why Chinese moms want American babies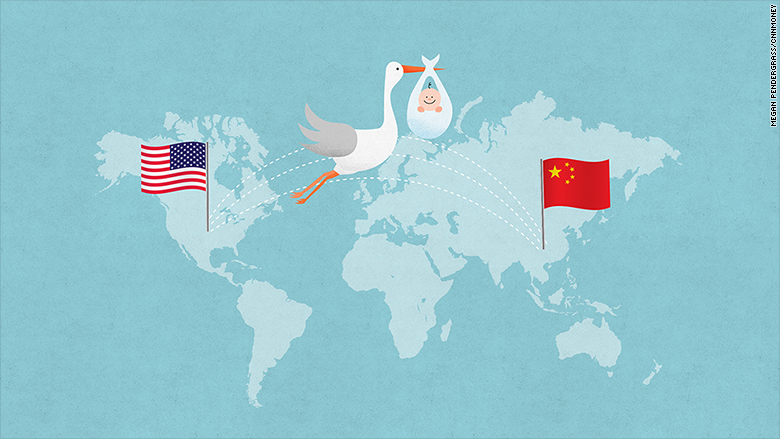 California dreaming
Chinese couples travel to the U.S. on tourist visas, which typically cover medical services. And many choose to have their children in California, because of the state's favorable laws on parental rights.
The intended parents can easily get their names -- not the surrogate's -- printed on the child's birth certificate. In other states, the paperwork is much more complicated.
"All of the baby's official documents show that we're the parents -- if we don't say anything, then nobody would know we used a surrogate," Zhang said. "But all our friends and family know, and they are happy for us."
Zhang and her husband have since set up a surrogacy business of their own, charging around $15,000 to help Chinese couples like themselves find surrogacy centers in the U.S., translate official documents and apply for visas.
For some of their clients, visiting the U.S. for surrogacy is their first time abroad.
"There are a tremendous number of medical reasons that lead people to do surrogacy," said Dr. David Smotrich, a physician who has worked with hundreds of Chinese patients at several surrogacy agencies in California.
Some women may have conditions where it's not safe for them to be pregnant; in other cases, gay Chinese couples seek surrogacy. Pollution is also contributing to increased infertility among the Chinese, Smotrich said.
East meets West
Hiring an American surrogate mother can mean navigating language and other cultural differences. Some couples, for example, try to apply Chinese medicine or other traditional beliefs, something Americans aren't used to.
Tony Jiang and his wife had three children with American surrogates, and he remembers being surprised at the differences in approach to pregnancy. Expectant Chinese mothers are expected to rest and have specific traditional food and drink, while many Americans often continue to work, travel and exercise, he said.
Jiang now runs DiYi Consulting, a service that matches Chinese couples to U.S. surrogacy centers. As part of the job, he's even had to tell couples they probably won't be able to use a traditional Chinese astrology method, called "bazi," to select a name for the baby. The practice uses the time and place of birth, but is unworkable as the U.S. is at least 12 hours behind China, and the stars are in different positions.
For both Jiang and Zhang, bringing their babies home to China was a smooth process. Once they got birth certificates and U.S. passports for their children, they were able to return to Shanghai. China does not allow dual citizenship.
The Chinese government periodically cracks down on China's illegal, underground surrogacy market, but the businesses operated by Jiang and Zhang haven't been affected. Their own children have faced no legal troubles and aren't treated as social outcasts -- despite the unusual circumstances of their births.
Zhang thinks that's because "all of our surrogacy services were done in America -- none of this we did inside China."
Her voice brightened when she talked about plans to send her son, now two years old, to an international school in a few years.
"Now, we are very happy, but the kind of pain we went through before can be difficult for others to understand," Zhang said.