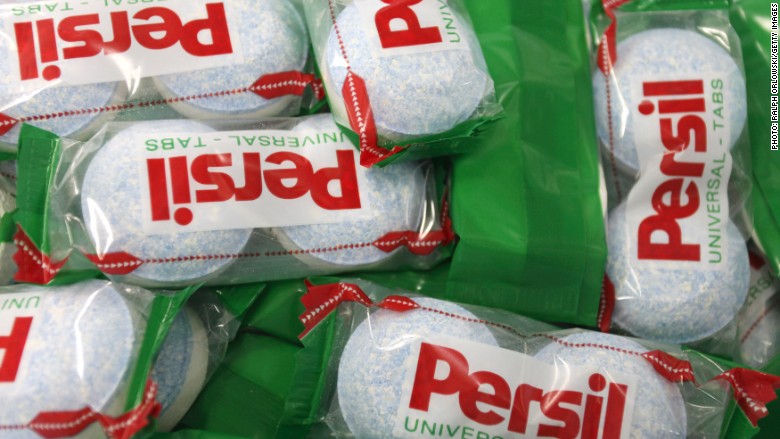 Russia is banning more Western brands.
After outlawing most imports of fruit, vegetables, cheese and meat, and blocking access to some websites, Moscow is going after Western soaps and detergents.
Officials have ordered stores across the country to stop selling some of the world's most recognizable brands made by Procter & Gamble (PG), Colgate-Palmolive (CL), and Germany's Henkel (HENKY).
The consumer protection agency said the products were "toxic" and had failed to meet Russian safety standards.
This was disputed by the companies, who said their products were safe, had passed toxicology tests in Russia, and carried the necessary certification.
Related: How badly have sanctions hit Russia?
Washing up liquid Fairy Platinum and detergent Persil are on the list of banned products, as is Palmolive Natural soap.
"We believe Fairy Platinum is in compliance with the regulations in Russia and are seeking to work with [the Russian agency] to resolve this matter as quickly as possible," said Procter & Gamble spokeswoman Marina Barker.
The companies hit by the announcement have factories in Russia, but some of the products are also imported.
The Russian watchdog said it would be inspecting Henkel's factory in the city of Perm.
"We are seeking dialogue with the relevant authorities to understand the background of their measures," said Henkel spokesman Sanjay Mistry.
Related: Banned! 10 things you won't find in Russia
Moscow banned most food imports from the U.S., European Union, and other countries last year, in retaliation for Western sanctions imposed over Russia's role in the crisis in Ukraine. Russia recently added Dutch flowers to the list of banned products -- citing safety concerns -- and extended the embargo until 2016.
It has recently stepped up efforts to rid the country of the banned food, bulldozing and burning cheese and fruit.
Ultimately, Russian consumers are paying the price. They're paying 20% more for food than a year ago.