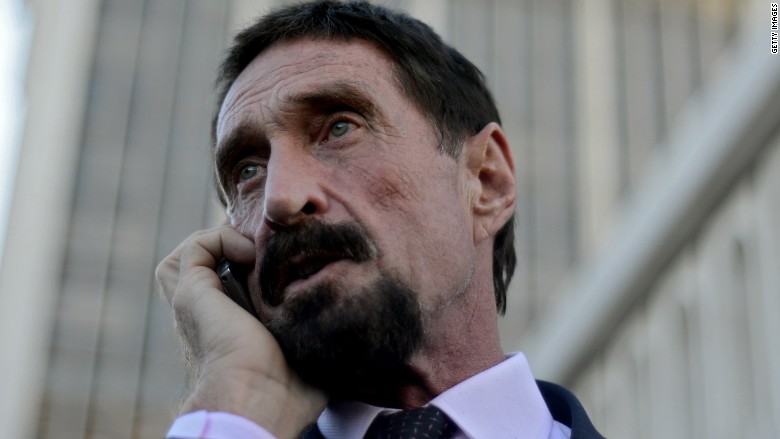 There's yet another candidate jumping into the race for the White House, and he's got his own political party.
John McAfee, the antivirus software magnate who fled Belize after police tried to question him for murder, confirmed to CNNMoney that he plans to run for President in 2016 and that he'd created his own party -- the Cyber Party.
McAfee explained that he decided to run after being encouraged by "almost everyone" he knows and meets.
"I have a huge underground following on the web," McAfee said. "I promise you I will win because I have the votes."
Related: John McAfee arrested for DUI, gun possession
McAfee said one of the hallmarks of his campaign would be his outspoken nature and his willingness to answer any question about his "checkered background."
McAfee, who said he'd filed his Form 2 with the FEC, also said he needed to run because of his belief that governments worldwide are "out of touch." (The FEC confirmed on Wednesday that McAfee had filed.)
"We are losing privacy at an alarming rate -- we have none left," McAfee said. " We've given up so much for the illusion of security and our government is simply dysfunctional."
McAfee said the desire to respond to terrorist attacks had opened citizens up to excessive surveillance.
"The government can spy on people using their mobile phones while they're with their wives and husbands," McAfee said.
He added that the U.S. government is simply dysfunctional and "lacks an understanding of the basic technology that runs the world."
He promised the campaign would be interesting and was confident he'd win by being honest.
Related: Intel renames its McAfee security brand.
When asked about his fellow candidates Donald Trump and Hillary Clinton, McAfee was overwhelmingly positive, saying both were "very smart."
He applauded Clinton for "putting up with Bill quite graciously for quite some time" and although he noted her email mishap was a mistake, he was quick to add: "Who hasn't made a mistake?"
McAfee said he would ask Trump one question if given the chance to debate him: "What is with the hair?"
But he also said that Trump was the most promising candidate.
"If I didn't enter, he would've won," McAfee said.
He admitted that he didn't really follow any of the other candidates and said he didn't want to comment on them.
"I'm not entering this race to compete with other people," McAfee said. "I'm not going to sling mud at people or run as anyone other than myself."
A site for his campaign has already gone live and McAfee said an explainer about the "Cyber Party" would be available after 6pm.
McAfee also spoke about his recent arrest.
In August, McAfee was arrested for DUI and possession of a handgun while he was under the influence. He said the case was still pending and would be back in court in November. He said it wasn't alcohol but Xanax that made him "dysfunctional" -- a claim he said would be supported by the blood test.
McAfee also made news in January 2014 when he fled police in Belize who sought to question him for the death of his neighbor.