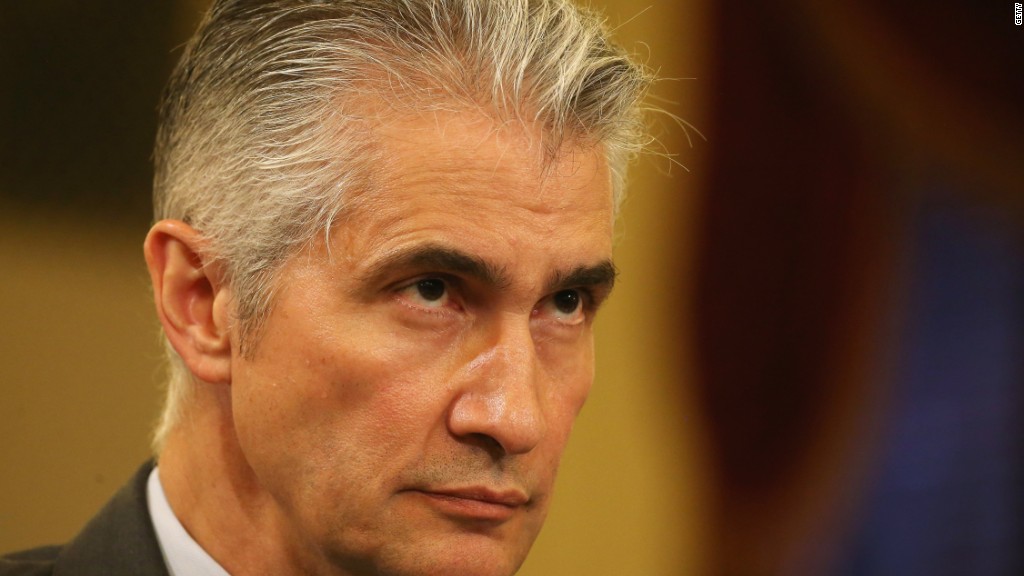 The shake up in United Airlines' corner office has placed one more Hispanic executive in the top spot at a Fortune 500 company.
That brings the total to nine.
United Airlines named Oscar Muñoz as its new CEO on Tuesday, after the company's CEO and chairman Jeff Smisek stepped down amid an investigation into wrongdoing at the airline.
Fewer than 2% of all CEOs at Fortune 500 companies are Hispanic, according to the Hispanic Association on Corporate Responsibility.
Roberto Goizueta became the first Hispanic CEO in 1981 when he was named chief executive at Coca-Cola (KO), according to a 2013 HACR report. But there is still lots of room for improvement, according to the organization.
Related: Only 5 black CEOs at 500 biggest companies
The companies that currently boast Hispanic CEOs include Express Scripts (ESRX) and ADP (ADP).
Before Muñoz, the last Hispanic CEO appointed was Richard Gonzalez who was named CEO of the pharmaceutical company AbbVie (ABBV) in 2014.
Muñoz joins CEO George Paz of Express Scripts as one of only two CEOs in the top 100 companies.
Prior to joining United (UAL), Muñoz served as the president and COO of the transportation company CSX Corporation (CSX (CSX)). Since 2010, Muñoz has also served on the board of directors for United Continental Holdings, Inc. and since 2004 has served on the board of Continental Airlines, Inc.