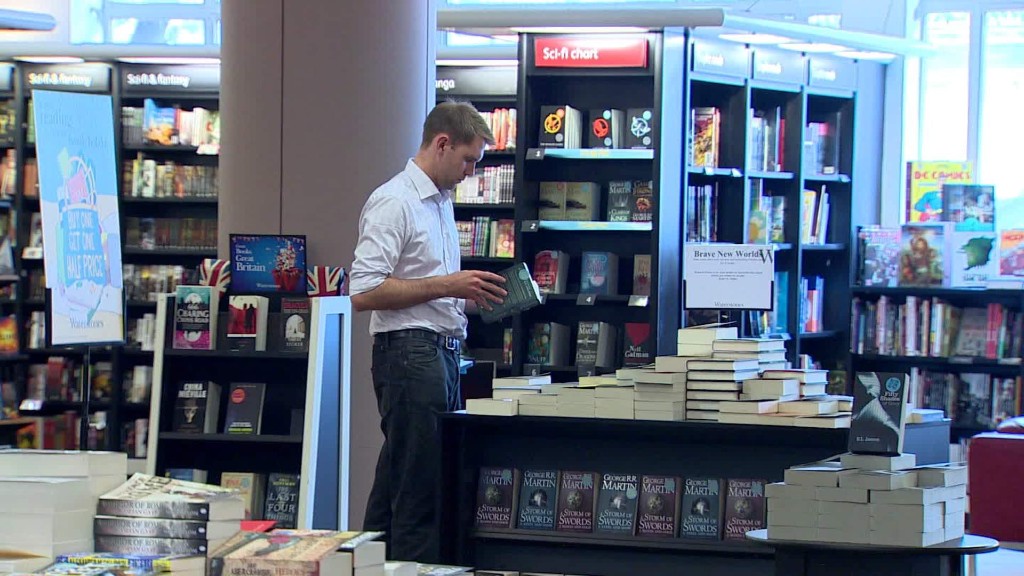 The final chapter for Barnes & Noble's corporate history has yet to be written. But the bookseller's recent performance is scarier than a Stephen King novel.
Shares of Barnes & Noble (BKS) plunged nearly 30% on Wednesday after the company reported a surprise loss of $34.9 million, a wider loss than the same period a year ago. (The stock rebounded 7.5% on Thursday but is still down more than 15% this year.)
Sales fell 1.5% from the same period last year. It was the fifth quarter in a row that revenue was lower than the previous year. The company is continuing to close stores.
The reasons for Barnes & Noble's woes are fairly obvious: a shift to online sales for physical books and the increased popularity of digital books and e-readers and tablets, such as Amazon's Kindle and Apple's iPad.
Amazon (AMZN) is eating Barnes & Noble's lunch and has been doing so for years. The rise of Amazon is one of the factors behind the 2011 closure of former Barnes & Noble rival Borders. And Apple's (AAPL) iBooks mobile app has been steadily gaining market share too.
Related: Microsoft loses $238 million on Nook stake
Barnes & Noble has tried to become a bigger player in digital. But its Nook e-reader has been a flop, adding to the company's woes. Sales in its Nook business fell more than 22% from a year ago -- with device revenue falling 6% and content sales plunging 28%.
Microsoft (MSFT) once had high hopes for the Nook. It invested in the business in 2012 but sold its stake back to Barnes & Noble last December.
So what's next for Barnes & Noble? It isn't in danger of succumbing to Borders' fate just yet. The company has no debt and a decent amount of cash.
And even though the latest Nook results were a disaster, physical book sales were decent in the last quarter.
Same-store sales of books, excluding Nook, rose 1% -- thanks to the releases of Harper Lee's "Go Set a Watchman" -- the eagerly awaited "To Kill a Mockingbird" sequel -- and "Grey" from E.L.. James.
Related: 'Go Set a Watchman' sells more than 1.1 million copies in its first week
This shows that when there are hot titles on the market, people will go to Barnes & Noble for them.
Wall Street may also be willing to give Barnes & Noble some time to try and fix things now that it has a new CEO.
Ronald Boire, formerly the head of Sears Canada (SRSC), just joined Barnes & Noble as CEO. In fact, Wednesday was only his second day on the job. So much for a warm welcome from investors!
The company also should have some more financial flexibility following its decision to spin-off its college bookstore business. Barnes & Noble Education (BNED) began trading as a separate public company last month. (Barnes & Noble had originally planned to spin-off Nook but changed its mind in favor of the education spin-off.)
But Barnes & Noble won't have forever to turn things around.
Neil Saunders, CEO of Conlumino, a research firm focusing on the retail industry, wrote in a report that the new management team now faces the difficult task of figuring out if more stores need to be closed. Saunders also said Boire must come up with a "coherent digital strategy."
"These determinations are ones that need to be made quickly and prudently if B&N is to survive over the longer term," Saunders added.
In other words, Nook must be fixed. Fast.
If not, then you might hear more people whispering about whether Barnes & Noble will be the next Borders.