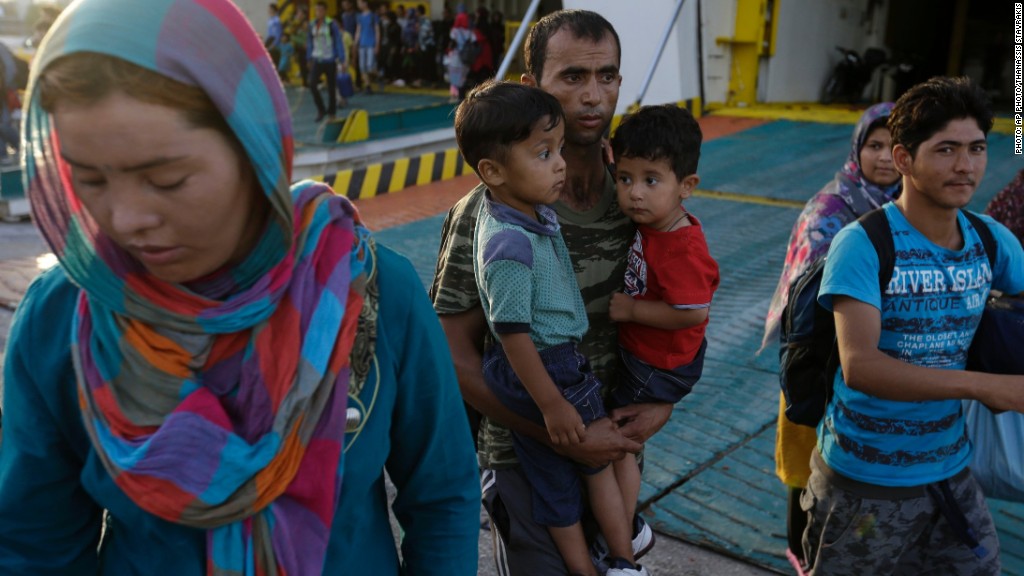 And now for some good news: Big business has begun handing over millions of dollars to help refugees pouring into Europe.
Europe is struggling to cope with the number of people fleeing war and poverty, and now some of the world's biggest corporations, as well as individual entrepreneurs, are coming forward to help.
Google, Goldman Sachs and Volkswagen (VLKAF)'s Audi subsidiary have all announced big donations this week.
Google (GOOGL) is giving one million euros ($1.1 million) to organizations that provide shelter, food, water, medical care, and other essentials for people in dire need.
Goldman Sachs (GS) is donating £2 million ($3 million) to the UN High Commissioner for Refugees. The money will be used to help migrants arriving at Europe's borders from war-torn countries.
The UNHCR said it has received $17 million in donations from companies and individuals in just six days.
How you can help in the migrant crisis
Uber is offering to send drivers to collect donations of clothes and toys for charity Save the Children for free in 20 European countries.
And Audi is giving 1 million euros ($1.1 million) to support local emergency aid programs, the German car maker said.
The UNHCR said it is also partnering with additional companies to provide aid (or in discussions to do so). Those include Zara, Ericsson, Volvo, H&M and Brown Forman.
Germany is leading efforts to try to solve the refugee crisis. Berlin expects 800,000 asylum applications this year alone, more than any other European country.
The refugees' desire to go to Germany has triggered a huge wave of solidarity in the country. Many smaller German companies have joined in the effort, offering to find work for those who stay.
Opinion: Europe is strong enough to take in refugees
German soccer club Bayern Munich has said it will donate 1 million euros ($1.1 million) to charities. It's also setting up a training camp, which will provide refugee children with meals and free German language classes.
The club has set an example for other soccer clubs -- Spain's Real Madrid said it would match Bayern's donation to help displaced people taken in by Spain.
And Europe's top 80 soccer teams have agreed to donate one euro for every ticket sold for their first home matches of the regional league competitions. League officials expect the initiative to raise between 2 and 3 million euros ($2.3-$3.4 million).
Individual business leaders are also stepping in. Norwegian hotelier Petter Stordalen has offered 5,000 free overnight stays in his chain of hotels in Norway, and Egyptian billionaire Naguib Sawiris has offered to buy an island from Greece or Italy to provide a temporary home for refugees.
Related: Today's refugee could be tomorrow's entrepreneur
CNN's Chris Liakos contributed to this article.