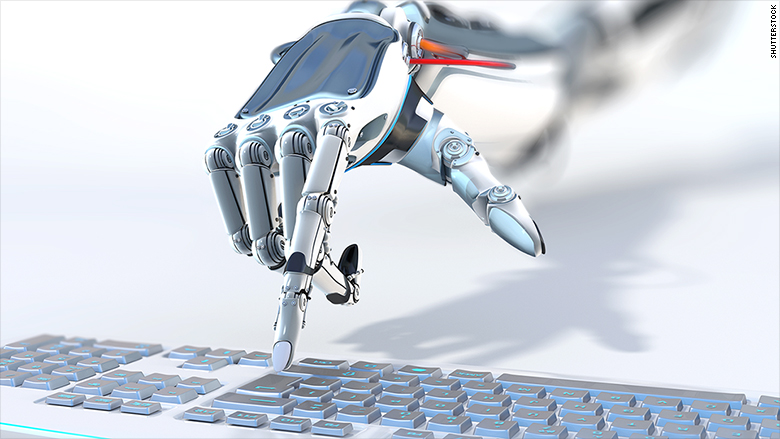 Robots could soon be running your 401(k).
Robo advisors have been automating everyday investors' portfolios for a few years, and now they're making their way into the 401(k) market.
Automated investing company Betterment will soon offer an online 401(k) platform, called Betterment for Business, that employers can use to offer retirement plans to their workers.
Betterment for Business will create personalized 401(k) plans for a participating company's employees. Each worker will answer a series of financial questions online, like when and where they plan to retire, and then receive investment recommendations.
"With technology, we can offer personalized advice for each client depending on their individual information," Betterment CEO Jon Stein told CNNMoney.
The company will launch the tool next year, and the plans will only include exchange-traded funds (ETFs).
"One reason a lot of 401(k) plans have mutual funds is that there are a lot of additional costs and expenses baked into them," said Stein.
Related: Retirement strategies with low risk, high returns
He said the new platform will be more cost-effective for employers than current 401(k) offerings and will streamline the enrollment process by making it paperwork-free.
Betterment for Business' fees will be based on the amount of assets under management at the company. There is also a $1,500 one-time fee for companies with under $1 million in their retirement funds.
While Stein said businesses of all sizes can use the new platform, he expects small and medium-sized business to be early adopters.
Related: Who has the best 401(k) plans?
Nearly 72% of small business employees do not have access to a retirement plan through their employer, according to the Small Business Administration.
"No one wants to serve them, and typically they don't have much leverage," Stein said.
Betterment, which launched in 2008, has had its sights on the 401(k) industry for awhile. But Stein said he didn't realize how hard it was to find an affordable plan with good options until he tried to find one for his then 50-person staff.
"We looked around and the space was riddled with too expensive options, poor fund selections, bad sponsor support and bad interfaces."
He said the company, which currently manages more than $2.6 billion in assets, will use its own platform when it launches.
"With all our research and knowledge of the financial world, it's unfortunate to think about what other companies go through," he said. "It was worse than expected."