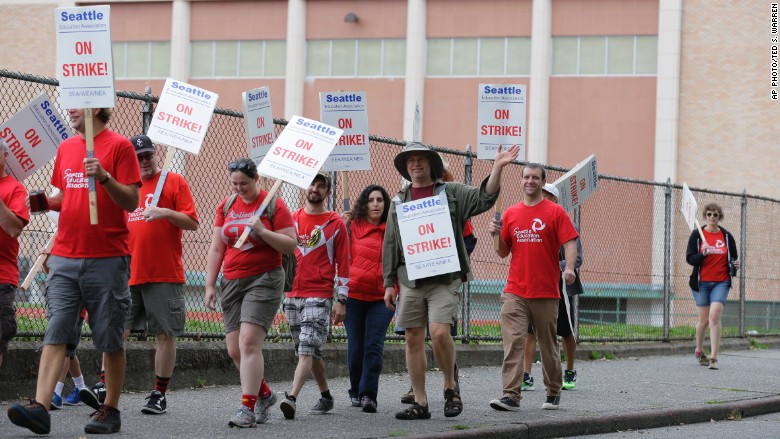 Seattle kids are still on summer break, kind of.
The union for 5,000 striking Seattle teachers still hasn't landed a deal with the district, and the doors remained closed on Monday.
Picketers lined up again as the as the strike entered its fourth day, though the union said Monday morning that negotiations "are likely to continue today."
The strike is the largest in the U.S. since Chicago's massive teacher strike in 2012. Talks resumed over the weekend after what the union called productive talks with mediators.
The Seattle job action began Wednesday on what was supposed to be the district's first day of school. Although it's kept more than 52,000 students out of school, the strike has received strong support from some parents.
Given the school closures, both sides are eager to reach an agreement -- but talks have been going for months. Seattle teachers are demanding higher wage hikes, and they say it's been five years since their last increase in state health care contribution rates.
The teachers union said in a Facebook post late Sunday night, "Major issues remain unresolved: there is no tentative agreement on professional pay, fair teacher evaluations, reasonable testing, student equity or the board's proposal to lengthen the school day."
On Sunday, the teachers' union proposed raises of 4.75% and 5% for the next two years, down from an earlier request for a 7% raise each year. The school board is offering 2% and 3.2%. The union said Sunday, "That proposal wasn't good enough."
The school board, however, said it can't afford the wage hike teachers are demanding.
"SEA has proposed a two-year contract that is estimated to cost about $61 million, more than twice as much" as the districts' proposal, Seattle Public Schools said in a post on its website.