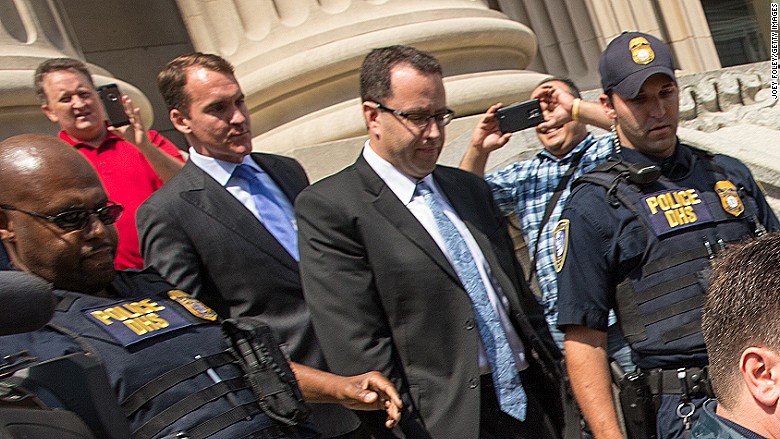 Subway said it has concluded an "extensive review" of over a million customer comments and other documents and found one "serious" complaint about its former pitchman Jared Fogle.
In a statement released Friday, Subway said the complaint submitted to its website in 2011 expressed "concerns" about Fogle. It said the complaint was serious but that "there was nothing that implied anything about sexual behavior or criminal activity."
Fogle last month agreed to plead guilty to child pornography charges and to crossing state lines to pay for sex with minors. He also agreed to pay $1.4 million to 14 of his victims with each receiving $100,000. Failure to do so could result in Fogle having to serve between five and 12-1/2 years in prison.
Related: Jared Fogle's charity raised $650,000, but gave just $146,000.
In the statement, Subway also said it regretted that the comment "was not properly escalated or acted upon" when it was first received.
"Since 2011, the company has strengthened its processes for reviewing and escalating customer comments, complaints and inquiries," Subway said.
The company noted that it had immediately suspended its relationship with Fogle when it learned of the criminal investigation against him.
Subway also noted that its investigation "found no further evidence" that it had received any other complaints against Fogle.
It's worth noting that few pitchman have been more closely linked to a brand than Fogle was to Subway.
Fogle, who lost 245 pounds by eating nothing but Subway for a year, gave the sandwich shop the image of being a purveyor of healthy options. In return, Subway integrated Fogle's personal weight loss story into its marketing campaign for 16 years.
While Fogle didn't single-handedly turn Subway into what it is today, his story certainly helped the chain's image and popularity. Today Subway has 44,000 stores in 110 countries -- significantly more than McDonald's, which has roughly 36,000 stores worldwide, and Starbucks, which has 22,000.
-- CNN's Carma Hassan contributed to this report.