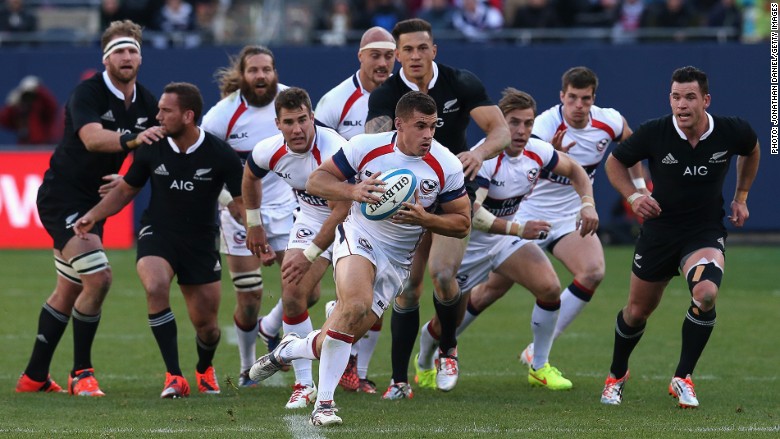 Rugby union is about to get its best shot at hitting the big time in America.
Plans for a national league could get a major boost from this month's world cup, and the return of Olympic rugby in 2016 for the first time in nearly a century.
The bruising form of contact football is already the fastest growing team sport in the U.S. over the past five years, according to industry figures. About 1.2 million participate regularly -- a fraction of the numbers who play American football and soccer -- but enthusiasts are convinced rugby is about to take off.
Michael Clements, chief executive of the National Rugby Football League (NRFL), believes American spectators will embrace the shorter, lively version of tackle football.
"It's easy for the crossover fan base," Clements told CNN. "The millennnials will eat it up. We say it's 'Steel, with sex appeal.'"
The USA Eagles will compete in the Rugby World Cup, which kicks off Friday in Britain. They are rank outsiders -- you can get odds of 3,000 to 1 on the national team winning the cup -- but the event should boost the sport's profile as the NRFL prepares for launch in 2017.
Olympic champions
Next year, rugby will get its first Olympic outing since America beat France to take gold at the Paris Games in 1924.
Both events are driving the push to take the sport pro in the U.S. The NRFL is hunting for buyers for six to 12 teams, and likely homes include New York, Los Angeles, Chicago, and Dallas.
Clements said his league won't attempt to take on American football. Instead, the game will provide tackle-hungry football fans with something to feast on during the NFL off season. Matches will be played in NFL stadiums from April to July.
And athletes who missed out on the NFL cut are Clements top talent picks for the sport. College players -- rugby is already a popular club sport -- and international imports will power the rest of the league.
Running uphill
Clements is confident the NRFL can become one of the world's top 50 sports properties. Now it needs cash to fuel its ambitions. No teams have yet been sold.
Nor have any TV networks signed up to show games. Clements said the league has secured sponsors but wouldn't name any.
Rugby's growth from a small base is impressive, and comes at a time when sports such as football, soccer, baseball and basketball are shrinking.
Related: Major League Lacrosse's newest team
But the Minneapolis-based league must overcome an array of challenges if rugby is to make it big in America.
There's a deep pool of talented athletes looking for work but experience in other countries shows making the switch from one of code of football to rugby union can be tricky.
Many potential fans aren't familiar with the game, and they'll need to adapt to a different style of play, featuring shorter games and fewer breaks.
And the danger of head injuries in a sport played without helmets will be another test given the growing focus on concussion in the NFL, and the impact on current and past players.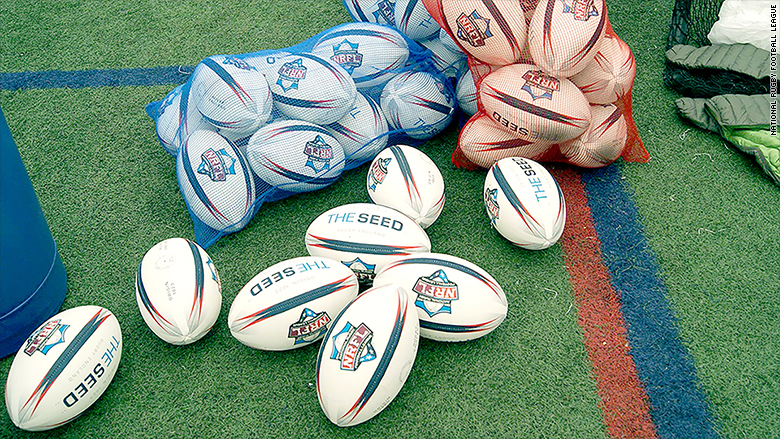 Still, a professional league would give America's international rugby ambitions a much needed lift.
Rugby Sevens -- a fast-paced version of the game with seven rather than the usual 15 players -- will make its debut at the Rio Olympics. The draw of an Olympic sport is already thought to have generated playing interest stateside.
Around 6.6 million people play rugby union worldwide, and the game is popular in parts of Europe, Argentina, Australia, New Zealand, South Africa, and island nations in the South Pacific. The Rugby World Cup -- the biggest single sporting event by ticket sales after FIFA's soccer World Cup -- is held every four years.