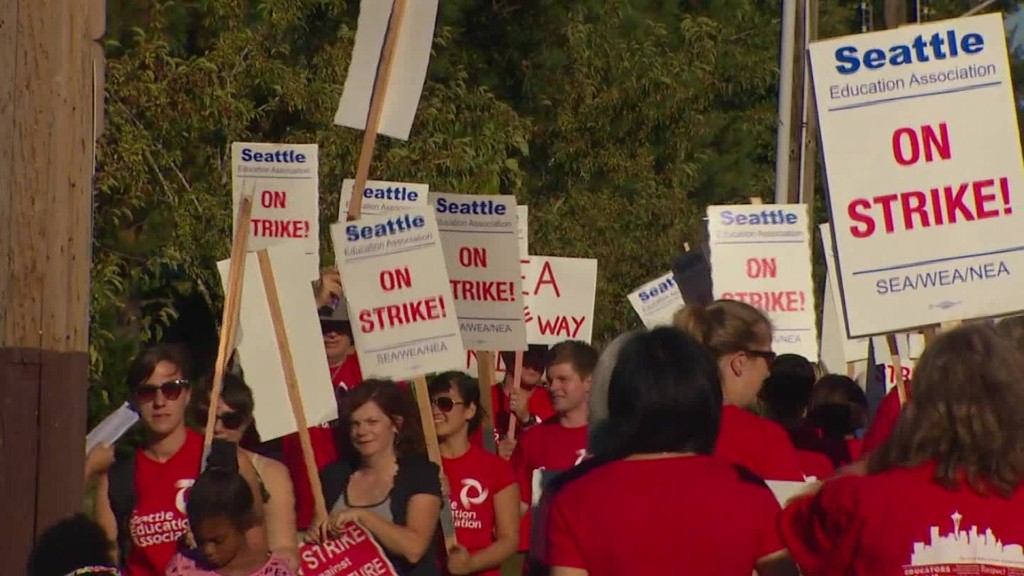 Kids in Seattle may finally get to start school this year.
Both the Seattle teacher's union and the public school district said via Twitter on Tuesday that a tentative contract agreement had been reached.
In an additional statement on Facebook, the Seattle Education Association, the teacher's union, said the strike would continue until its board and representatives could review the agreement on Tuesday. The strike could end if the panel recommends that SEA members approve the agreement.
The union told SEA members to report to their picketing spots at 8:30 am, where leaders would provide updates and information.
In a statement, the district said the agreement was reached at 7 am local time and that both sides worked all day Monday and overnight.
Seattle Public Schools said that it hoped school would resume on Thursday.
"District staff are working persistently in [an] attempt to start school on Thursday. As previously mentioned, because of the length of the strike and many logistics involved, getting class started might not happen immediately."
The strike began last Wednesday, on what was supposed to be the first day of school, and involves 5,000 Seattle teachers. Seattle teachers are demanding higher wage hikes and better contracts, while the school district wants a deal that's fiscally responsible.
It's the nation's largest strike since 2012, when Chicago teachers led a massive strike against their district.