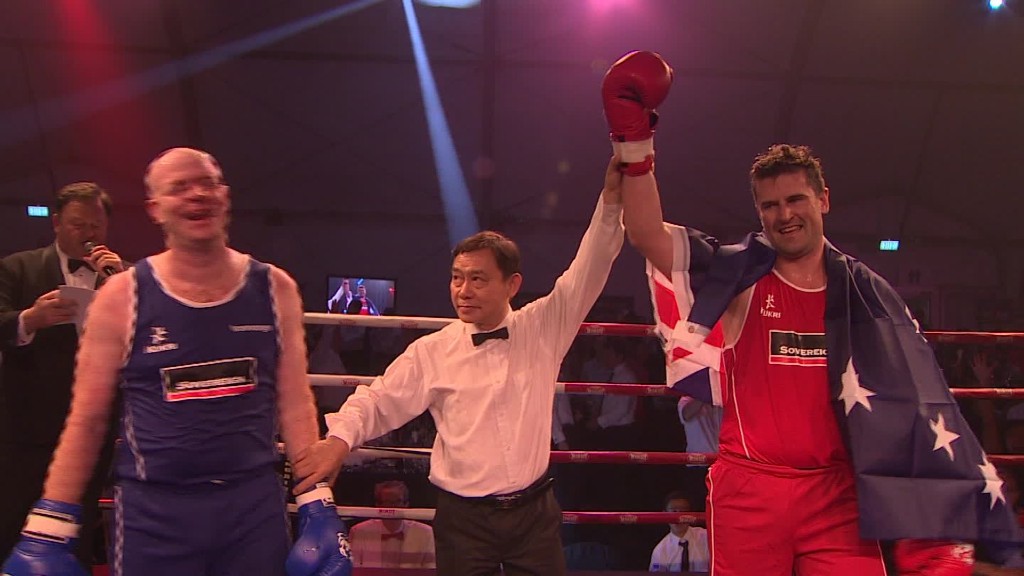 "In the red corner, fighting for the Bank of New York Mellon, is Will 'Tyrannosaurus' Jeffries," the announcer roared.
Jeffries emerged from behind a red curtain amid a cloud of smoke, bounding straight into the boxing ring as loud music pumped from speakers, strobe lights flashed overhead and models pranced around in bikinis. The spectators, decked out in tuxedos and colorful sequined gowns, went wild chanting his name.
This is Hong Kong's "Hedge Fund Fight Nite," a white-collar boxing competition and charity fundraiser that gets the city's financiers out of the office and into the ring. With a couple of fights each year, it's one of the hottest tickets in town.
"A lot of the people in finance, who are young, determined and want to achieve a huge amount -- boxing is a perfect discipline to learn and try," said Rob Derry of Ironmonger, a fight organizer. "Hong Kong is a very transient place ... it gives people who are here for three years something to focus on outside of work."
Related: What it feels like to punch a banker
Under a giant tent near Hong Kong's Victoria Harbor, punches went flying as 720 guests cheered for the boxers. The attendees -- sitting at tables that cost HK$24,000 ($3,100) a pop -- munched on crabmeat salad with mango, parma ham with cantaloupe, slow-roasted beef striploin and Earl Grey orange chocolate cake.
Between bites, they bid on expensive trips, private dinners, fine artworks and luxury diamond jewelry.
By the end of the night, the fight had raised HK$630,000 ($81,300). The proceeds benefit three charities -- one that provides cleft palate surgery for kids, another that offers art therapy to victims of drugs, violence or sexual abuse, and a third that connects at-risk youth with police mentors.
Related: How one Hong Kong banker trained for a prize fight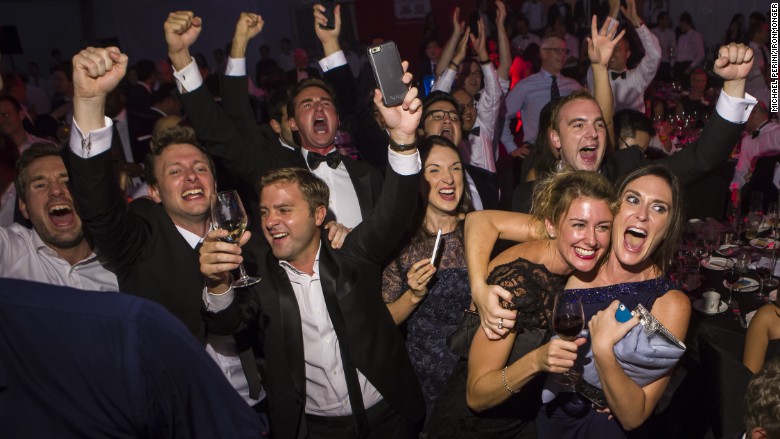 Most bouts were fun and exciting to watch, but a few took a turn for the worse. When Richard "The Stinger" Stevenson took a particularly big swing, he suffered a shoulder injury. The audience quickly hushed as judges declared the fight over.
Stevenson, who works for real estate firm Cushman and Wakefield, was ushered to the hospital, and is scheduled for shoulder reconstruction surgery in about a week.
Another bout was called off after Alex "Adults Only" Oxford of LexisNexis Risk Solutions lobbed a blow that gave his rival, Turiya Capital's David "Amber Rain" Coates, a severe bloody nose.
As popular as these glitzy white-collar fights are, the boxers do fight at their own risk. While headgear and padded gloves offer some protection, injuries can happen in the ring -- some even had to drop out of training after getting hurt.
Still, it didn't take long for things to swing back into gear. Models in silver gowns mingled with the wine-drinking black-tie crowd, which got rowdier as the night wore on.
The night's only female bout featured Megan "Mega-hurtz" Schmalzried of Ernst & Young, and Tanya "The Mental" Menzel of Consulting Group International.
Schmalzried's friends were "really excited to see me punch someone," she said during training. "I'm learning how to make yourself a smaller target ... and it feels good when you can get a couple of hits on someone and make it hurt."
Even though "The Mental" went home with the win, Schmalzried said she'd do it all over again "in a heartbeat."