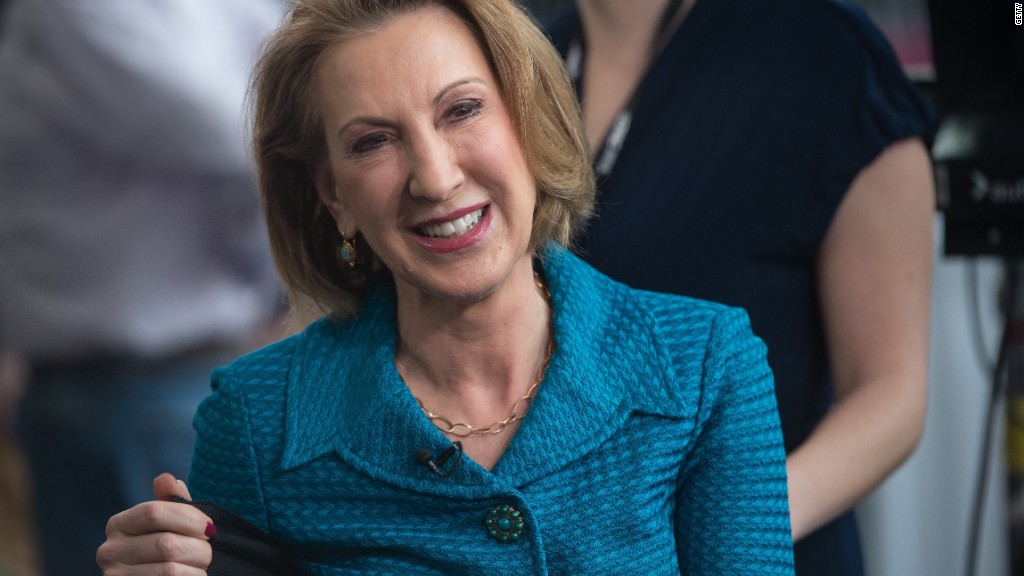 Does Carly Fiorina really want Tom Perkins in her corner when it comes to her record as CEO of Hewlett-Packard?
She brought up the former HP board member during last week's GOP debate on CNN.
"The man that led my firing, Tom Perkins, just took out a full-page ad in the New York Times to say he was wrong, I was right. I was a terrific CEO, the board was dysfunctional. And he thinks I will make a magnificent president of the United States," she said.
In that ad, Perkins gushed that Fiorina "had the strength of character and courage of conviction" to stand up to HP's board and added that "not only did she save the company from the dire straits it was in, she laid the foundation for HP's future growth."
The ad was paid for by the super PAC Carly for America. Perkins has donated $25,000 to that organization.
But Perkins, the billionaire co-founder of the legendary Silicon Valley venture capital firm Kleiner Perkins Caufield & Byers, may not exactly be the type of person Fiorina wants associated with her campaign.
Related: Perkins compares U.S. wealth debate to Nazi Germany
His most recent controversy was comparing efforts to correct income inequality with tactics used in Nazi Germany.
In January 2014, Perkins complained about there being a war on the rich in a letter to the editor at the Wall Street Journal and compared the treatment of the wealthy to Kristallnacht, two days of violence in Germany against Jews in November 1938 -- events that preceded World War II and the Holocaust.
"I would call attention to the parallels of fascist Nazi Germany to its war on its 'one percent,' namely its Jews, to the progressive war on the American one percent, namely the 'rich,'" he wrote.
Perkins later apologized in an interview with Bloomberg. Sort of. He said he regretted using the word Kristallnacht in his analogy ... but not his message about persecution.
Yet that wasn't the only provocative comment he made last year.
Speaking to Fortune writer Adam Lashinsky at an event in San Francisco in February 2014, Perkins suggested that the rich should have more votes than others in national elections.
"The Tom Perkins system is: You don't get to vote unless you pay a dollar of taxes," Perkins said. "But what I really think is, it should be like a corporation. You pay a million dollars in taxes, you get a million votes. How's that?"
Perkins has no shame about flaunting his wealth either. He told Bloomberg last year he could buy a six-pack of Rolexes for the price of the one watch he was wearing.
And he joked in a 2007 interview on "60 Minutes" that his Maltese Falcon yacht -- which he has since sold in favor of a submarine -- had the following phrase written on it in nautical flags and banners:
Rarely does one have the privilege of witnessing vulgar ostentation displayed upon such a scale.
Related: Tom Perkins has a big idea: The rich should get more votes
Perkins, an avid yachter, was also convicted of involuntary manslaughter in France in 1996 for the death of another sailor after their boats collided. He received a suspended jail sentence and paid a $10,000 fine.
And on a lighter (but still odd) note, he is the author of the 2006 book "Sex and the Single Zillionaire" -- a bodice ripper in the style of Danielle Steel ... which makes sense since Perkins' ex-wife was, in fact, romance novelist Danielle Steel.
A spokesperson for the Carly Fiorina campaign was not immediately available for comment.
Fiorina is in a tough spot. She has won praise for her performance in the first two GOP debates, and has surged to second place in the Republican presidential race, according to a new CNN/ORC poll.
Related: Forget what Trump said about her face. Fiorina's track record is the issue
But she is likely to receive more criticism about what went wrong at HP under her as well as her time as a senior executive at Lucent, a spin-off of AT&T (T) that imploded shortly after Fiorina left. (Lucent merged with Alcatel in 2006, and now Alcatel-Lucent (ALU) is in the process of being bought by Nokia (NOK).)
A former Lucent employee blamed Fiorina for the loss of her retirement savings at a Donald Trump event in New Hampshire last week.
Fiorina would be wise to remind voters that she still has friends in Silicon Valley who don't think she ruined HP. (Or Lucent.) But Tom Perkins may not be the best choice of allies.