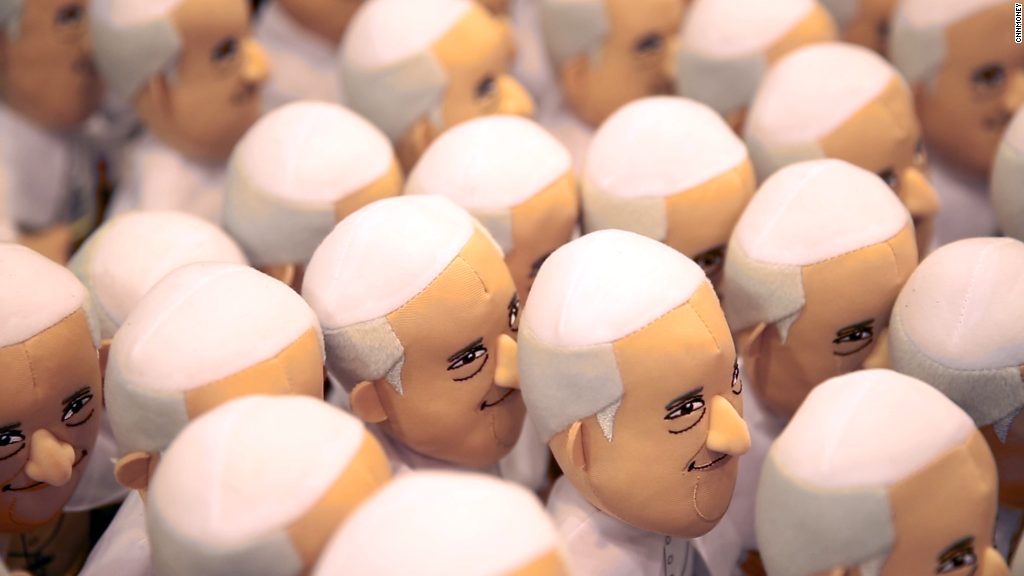 Maybe they should call Philadelphia the City of Fatherly Love?
Philly is the epicenter of this week's mania over the visit of Pope Francis.
Walking around the city, you can't avoid the Francis merchandise. There are traditional, faith-based items like prayer cards and rosary beads, as well as more secular goodies such as a life-sized cardboard cutout of the Pontiff.
And that's just the official Pope swag.
Many local entrepreneurs are also looking to cash in on the Pope's visit, with quirky T-shirts, Pope-themed beers and even cheese. Yes, cheese. But more about that later.
The Pope doll is selling like hotcakes
Philadelphia-based Aramark (ARMK), most well known for operating concession stands at sporting venues, is the official merchandise vendor. It is partnering with the World Meeting of Families, the event's host.
Most of the revenue from the merchandise will go to help cover the expenses from having Pope Francis in Philly for two days. But Aramark will get a cut of the sales as well.
Aramark has a Pope pop-up store in the lobby of its headquarters. It is also selling goods online and on the Benjamin Franklin Parkway -- where Pope Francis will hold an outdoor mass on Sunday.
Related: Philadelphia inmates made a chair for the Pope
So what's been popular? Carl Mittleman, president of Aramark's sports and entertainment division, said the plush Pope Francis doll, selling for about $20, is a big hit. It's great for kids. (I bought one. My 2-year old likes to give the Pope a hug.)
"It's the most requested item that I've had from friends and family outside of Philadelphia. They have asked, 'Can you send me a plushy?'" Mittleman said.
Bleacher Creatures, the company that makes the doll, says it has sold more than 50,000. It's the company's best seller. Impressive since Bleacher Creatures also sells dolls based on star athletes and superhero characters from Marvel and DC Comics.
But even though there are lots of nonreligious items for sale (beverage koozies, scarves and a Pope Francis bobblehead) Mittleman said the official Pope merchandise was designed to be respectful.
"We're not going to be selling T-shirts with the Pope holding a cheesesteak. We're going to be very committed to the spirit of this great event," he said.
Yo Pontiff! And does Francis like the Phillies?
It was a different story on Philadelphia's South Street, home to some of the more eclectic shops in the city.
You could find Pope Francis shot glasses. And lots of lots of T-shirts that are just a little edgier than the official ones.
One store, Inkster, had shirts that read "Best. Pope. Ever." And "Yo Pontiff! Philadelphia MMXV."
Related: Philadelphia in shutdown mode for Pope visit
At Cheesesteaktees, one popular shirt had the letters POPE spelled out to look like the iconic LOVE statue by Robert Indiana that's not far from City Hall.
And in classic Philly style, another T-shirt turned Pope Francis into a local sports fanatic.
It shows a cartoon Pope Francis leaping in the air like pitcher Tug McGraw did after the Philadelphia Phillies won the World Series in 1980. The shirt says "Pope Phrancis" and even has the number 266 on his robe. Pope Francis is the Catholic Church's 266th Pontiff.
Tom Hogg, a floor manager at Cheesesteaktees, hopes the Pope would approve.
"We didn't want to make anything too crass. That's not us. We like weird shirts, but we didn't want to push the limit or anything. We like the Pope. He is progressive and he seems like a good guy," Hogg said.
POPE beer at the POPE, with a side of Francis mozzarella?
But how would Pope Francis feel about being depicted on a T-shirt as Philly's famous fictitious southpaw Rocky Balboa? While hoisting a beer mug?
That was on sale at the Pub on Passyunk East, a bar in South Philly known by its acronym: The POPE.
The POPE also had Holy Wooder beer from Philadelphia Brewing Company, complete with a Pope Francis tap.
Philadelphia Brewing isn't the only beer maker to come up with Pope-themed suds either.
New Jersey's Cape May Brewing Company created You Only Pope Once beer, or YOPO. And Manayunk Brewery in Philly made Papal Ale.
Evan Fritz, the head brewer at Manayunk, focused on the Pope's Argentinian heritage. The beer was aged in Malbec-soaked oak wine barrels and had candi sugar from Argentina in the base. Fritz even got a local Catholic priest to bless the water in the tank.
"We wanted to honor the occasion with a special beer. It's been a long time since a Pope was in Philly," Fritz said. (The last papal visit to the city was by Pope John Paul II in 1979.)
Related: Fiat 500L: Good choice for frugal Pope
Looking for some cheese to go with that cold one? Anthony Messina and Frank Sangiuliano, co-owners of Pastificio, a pasta shop in South Philadelphia, have mozzarella shaped like Pope Francis.
They already sell holiday-themed cheeses shaped like Santa Claus, turkeys and hearts. So they decided to get a local ceramic artist to make them a mold of the Pope.
Sangiuliano said they've gotten interest for it from as far away as Austria.
But isn't it a little odd (and maybe blasphemous?) to be eating the Pope in cheese form? It's a strange sort of communion. Messina disagrees.
"It's not sacrilegious. It's delicious," he said.
--CNNMoney's Abigail Brooks and Parija Kavilanz contributed to this story.