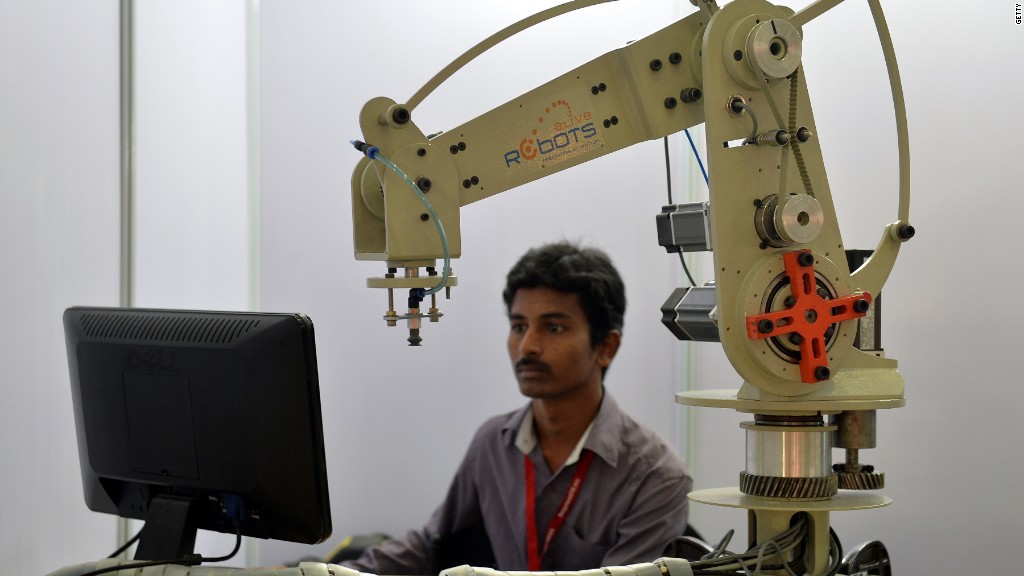 Like tens of millions of women in India, Babita Gaekwad spent most of her life working in other people's homes. For years, she was living hand-to-mouth, earning roughly $180 per month as a part-time domestic cook.
She dreamed of finding better opportunities, but lacked resources. Then she found Bharatiya Mahila Bank.
With a loan from the bank, which caters specifically to women, Gaekwad and her friends Anita Gaekwad and Shobha Mohare were able to start a catering business of their very own. Today, they turn a nice profit preparing meals that are delivered to 30 to 35 clients around New Delhi.
Bharatiya Mahila Bank is the first of its kind in India. Launched in November 2013, with initial funding of $161 million, the public bank is dedicated to the "economic empowerment of women." The name itself translates to "Indian Woman Bank."
It fills a huge need. Just 43% of Indian women had a bank account in 2014, according to Global Findex, a database run by the World Bank. Seventy-five percent of women in China have bank accounts, while 93% do in South Korea.
"There was a dire need to financially include the women of the country, particularly the women who had no formal, regular access to banks, banking services and banking products," said S.M. Swati, executive director of the bank.
In India, the low number of women with bank accounts is part of a larger problem. The rate of female participation in the formal work force stood at just 27% in 2013. Culture plays a part too: Indian households and society tend to be dominated by men, and women rarely have access to the same educational opportunities as male peers.
"Indian girls and women fare worse than Indian boys and men on health outcomes -- including child mortality -- educational attainment, and labor market outcomes," said Kalpana Kochhar, a deputy director at the International Monetary Fund.
Bharatiya Mahila Bank offers savings accounts, some of which can be opened with zero balance, as well as women-centric loans at competitive rates.
Babita Gaekwad and her team, for example, were able to secure an initial loan of $1,141 at an interest rate of 11.25%, which is much lower than other lenders were likely to offer.
Other Bharatiya Mahila Bank products designed specifically for women include loans to set up beauty salons or buy a car. The bank also provides loans to those who want to drive a rickshaw, or even open a medical clinic.
"[Bharatiya Mahila Bank] offers loan products that encourage women from all sections of society -- right from agricultural laborer to a corporate executive," said Swati.
The bank also holds financial literacy workshops, in hopes of raising awareness among women of the options they have and how to execute their business ideas.
The bank isn't exclusively for women. Men are welcome, but "most of the loan products come with a concession for women customers," explained Swati.
Related: 2.3 million Indians apply for just 368 jobs
Since the bank's first branch opened in Lucknow, roughly 80 more have opened, permeating into second and third-tier Indian cities. The bank aims to have a total of 150 branches by March. So far, it has amassed 155,000 customers, and 85,000 women have taken out loans.
But can a bank really bring about change for India's women?
Babita Gaekwad and her partners now earn an average of $334 a month -- double what they were earning before they set up the catering business. And, in fact, it is their husbands who deliver the fresh-cooked meals to clients -- a business model based on equal participation.