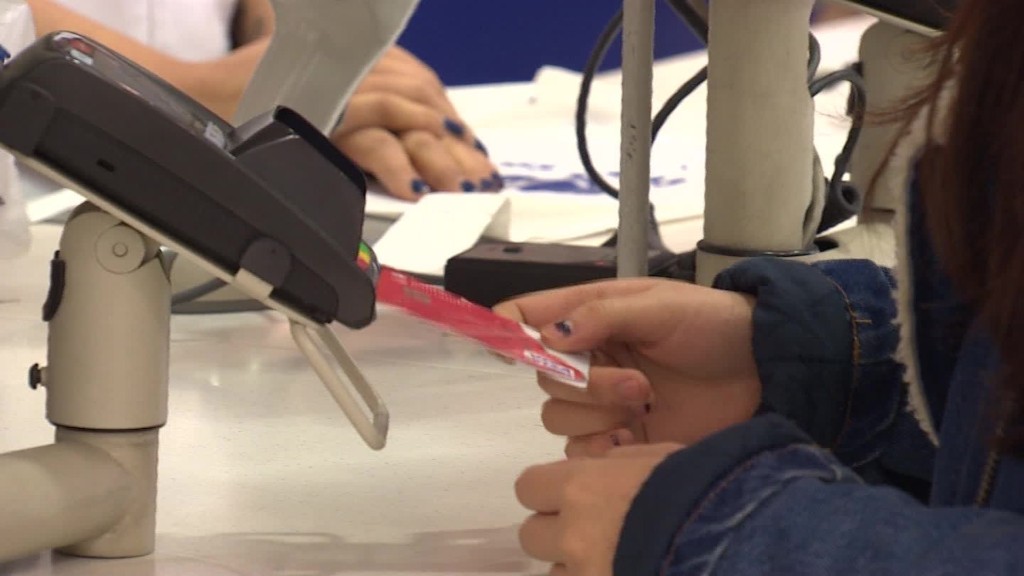 Be prepared for a lot of confusion at check out lines.
Banks have been sending out new chip-enabled credit cards, and stores have been installing new machines that require you to dip the new cards rather than swipe them.
It's all aimed at keeping you safe from hackers.
But there are tradeoffs.
Each transaction with the new machines takes a little longer.
These new cards have microchips that store your payment data and produce a unique code for every purchase. That data is currently held on the magnetic stripe on the back of cards, which is easy for fraudsters to steal, replicate and place on fake cards.
Related: Everything you need to know about the new credit cards
The added security measures mean the card has to sit in the credit card terminal for the entire transaction -- and that can take more time.
How much more?
Visa said the authentication process adds roughly one second to a transaction, while Chase estimated one to two seconds. One expert projected five to 10 seconds.
The reality will depend in part on a store's payment system. More advanced (and likely more expensive) payment systems will run faster, explained Philip Andreae, a vice president at digital security company Oberthur Technologies. "If you went out and bought a $200 computer versus a $2,000 computer there is an absolute difference in the speed; the same goes for point-of-sales systems."
There may also be a psychological effect regarding the new procedure: "The consumer experience is going to feel longer because you are leaving the card in during that time," said Stephanie Ericksen, Visa's (V) vice president of risk products.
The learning curve will initially add time too.
Some people in front of you will dip wrong: They might try to swipe their chip card, or take the card out to soon, which can re-start the process.
All machines will still accept non-upgraded credit cards.
"Until consumers and retailers get used to dipping the credit card as opposed to the autonomic swiping, shoppers (and retailers) can probably expect checkout processes to take a bit longer," said Justin Guinn, a market researcher at Software Advice, a company that advises businesses on payment software.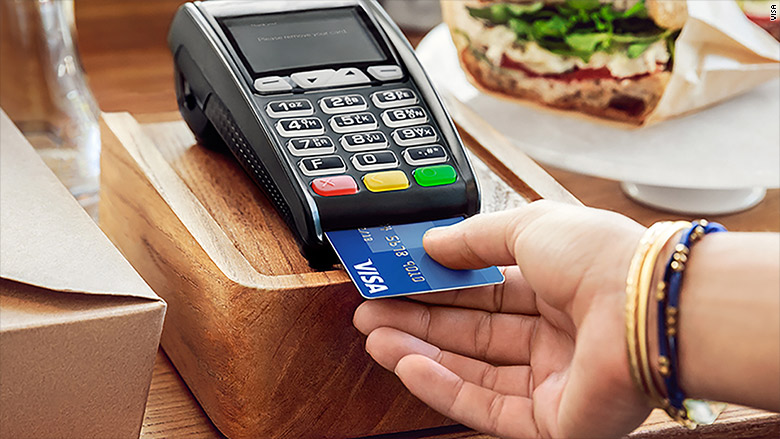 Related: Upgraded terminals can still be hacked
The uneven rollout of the new cards can also add confusion. A recent survey showed nearly 60% of respondents haven't received a new chip-enabled card. And some merchants have been slow to upgrade their payment systems, creating conflicting check out processes.
Target, which suffered a massive data breach at the end of 2013, has been early to adopt the technology and has updated its store credit card and all its registers.
"It's a matter of a couple seconds," said Target (TGT) spokesperson Molly Snyder, on the added time.
She added that Target employees have been walking customers through the change and that the terminal buzzes when something has gone awry with the process — including if a card is left in the machine.
There is no federal mandate requiring the update, but new liability rules go into effect October 1 that shifts who pays for fraudulent charges. Banks used to cover any bogus transactions, but now the entity with less protection will have to cover the costs.
For instance, if a chip-enabled card is used in a store that hasn't upgraded its payment system, the retailer is on the hook for any fake swipes.