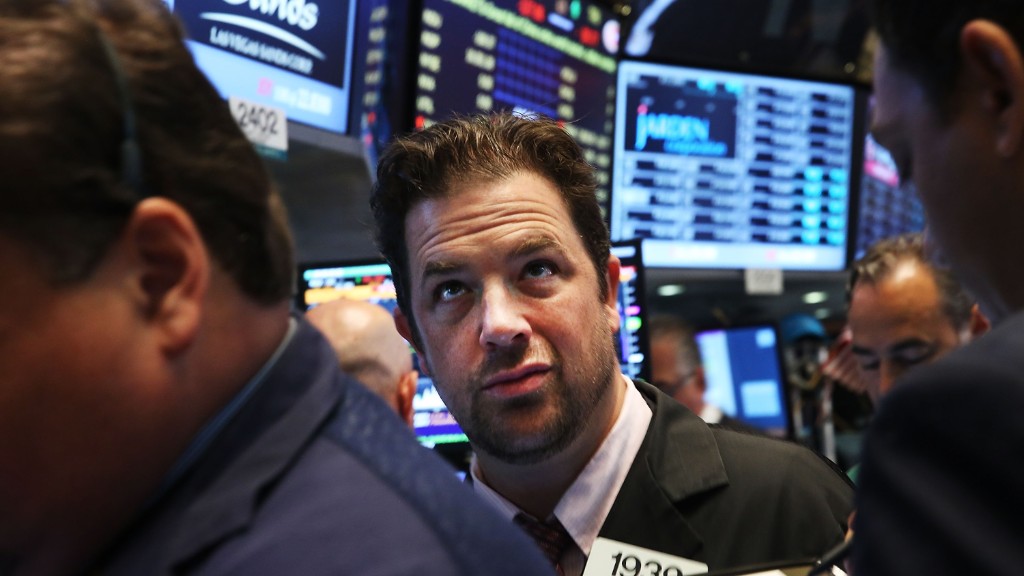 Optimism has gone out of style on Wall Street. That's so 2014.
Doom and gloom is all the rage these days. Carl Icahn is bracing the world for a "bloodbath." The IMF is warning higher interest rates could create a wave of emerging market bankruptcies. And a single tweet from Hillary Clinton helped kill the biggest bull market ever in biotech stocks.
No wonder the U.S. stock market just wrapped up its worst quarter in four years.
Related: Fear & Greed Index indicates extreme fear now
Fewer bulls than in March 2009
The latest sentiment survey from Investors Intelligence offers further evidence of pessimism on Wall Street.
Just 25% of financial advisors who responded are bullish on U.S. stocks. That means there are fewer optimists out there than in March 2009 when the S&P 500 touched its bear market low of 666. It's almost as bad as October 2008 -- just after the implosion of Lehman Brothers -- when just 22% of investors were bullish. Back then people feared a collapse of the entire financial system.
Related: Foreign investors can't get enough of the U.S.
Bears are back
At the same time, the percentage of bearish investors jumped to 35% this week, up from 30% the week before. It's the highest level of bearish sentiment since October 2011 when the bull market nearly came to an end.
All of this marks a dramatic swing in sentiment from the summer of 2014. At that time nearly 65% of investors were bullish as the Dow shattered records seemingly every day and China's economic slowdown was just a distant worry.
Related: The 3rd quarter was brutal. But these stocks won
All this negativity could be a good thing
Before you freak out about how everyone is freaking out, realize these surveys tend to be contrarian indicators. The smart money uses them to determine when sentiment has gotten so negative that it's got nowhere to go but up.
Ed Yardeni, president of investment advisory Yardeni Research, notes that the Investors Intelligence ratio of bulls to bears has declined to 0.7, marking a fifth straight weekly reading below 1. He said in the past that's been "a very reliable buy signal."
Yardeni warned that this metric can stay low for a bit as stocks continue to churn lower. "But in the past, those lower prices turned out to be great buying opportunities," he wrote in a note to clients.
Related: The stock market bull may not be dead yet
Equities falling out of favor
There are other sentiment signals offering glimmers of hope for U.S. stocks.
Bank of America Merrill Lynch said on Thursday that strategists have been recommending investors allocate just 53% of their portfolio to equities, compared with a traditional long-term average weighting of 60% to 65%.
"It has historically been a bullish signal when Wall Street was extremely bearish, and vice versa," BofA Merrill wrote in a report.