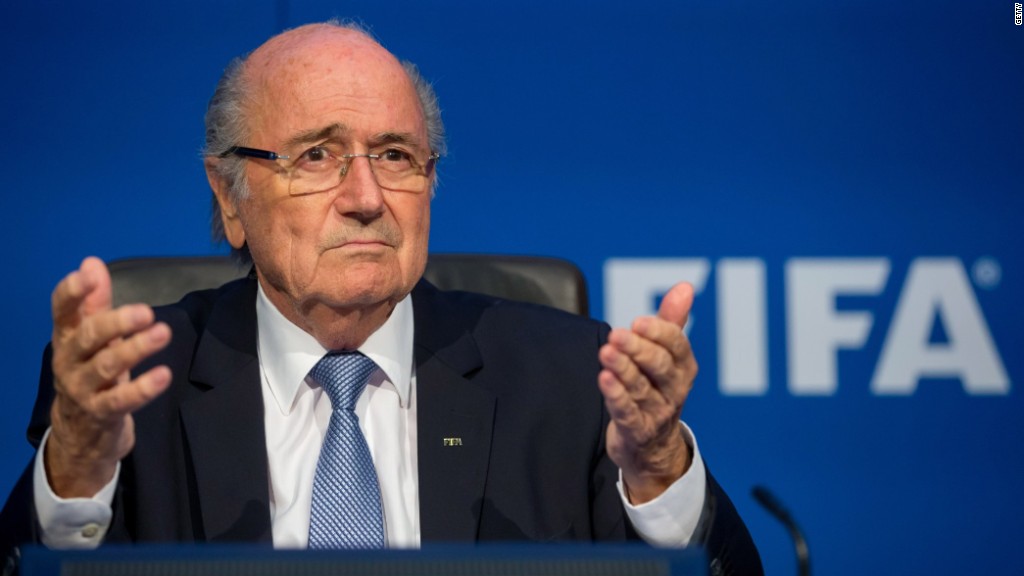 Sepp Blatter has fired back at Coca-Cola: I "will not resign."
The president of FIFA responded Friday to a call from Coca-Cola to step down immediately. McDonald's (MCD), Visa (V) and Anheuser-Busch (BUD) also issued calls for Blatter's resignation shortly after the Coca-Cola statement came out.
"While Coca Cola is a valued sponsor of FIFA, Mr. Blatter respectfully disagrees with its position and believes firmly that his leaving office now would not be in the best interest of FIFA nor would it advance the process of reform and therefore, he will not resign," a spokesperson for Blatter said.
The statements came after last week's announcement that Blatter is now the subject of a Swiss criminal investigation.
Advertisers pay millions of dollars each year to partner with FIFA and said they'd become concerned about reforming FIFA when Joseph "Sepp" Blatter became embroiled in a scandal involving alleged bribes.
"For the benefit of the game, The Coca-Cola Company (KO) is calling for FIFA President Joseph Blatter to step down immediately so that a credible and sustainable reform process can begin in earnest," a spokesperson said. "Every day that passes, the image and reputation of FIFA continues to tarnish. FIFA needs comprehensive and urgent reform, and that can only be accomplished through a truly independent approach."
A McDonald's spokesperson agreed that recent events had diminished FIFA's reputation and public confidence.
"We believe it would be in the best interest of the game for FIFA President Sepp Blatter to step down immediately so that the reform process can proceed with the credibility that is needed," the spokesperson added.
Visa and Anheuser-Busch also released similar statements.
Anheuser-Busch also said it has been working with Adidas, Coca-Cola, McDonald's and VISA to reform FIFA and will continue to do so.
Blatter, the association's eighth president, has served since 1998 and was reelected in May. He announced his resignation in June, but will hold the position until a replacement is elected.