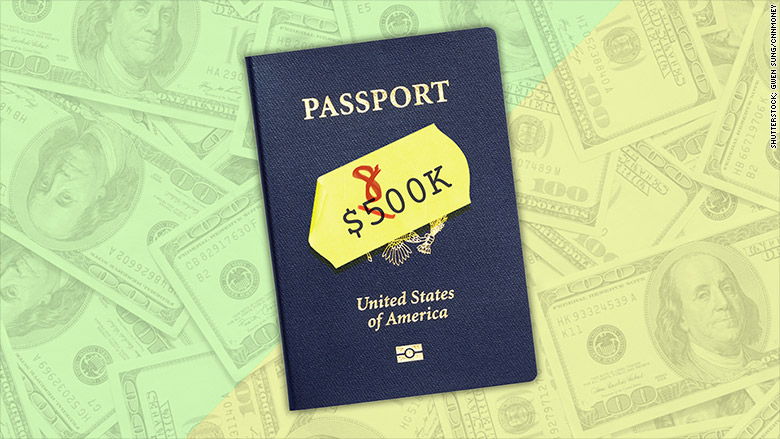 It's about to get a lot harder to buy a green card.
The U.S. government runs a program that grants permanent residency to foreigners who sink at least $500,000 into a job-creating investment. The controversial immigrant investor program, known as EB-5, has been hugely popular with rich Chinese, but lawmakers are considering changes that could make getting a green card a bit tougher.
Supporters of the program say foreign investors have provided an important alternative source of financing, benefiting major real estate investments, such as Brooklyn's Atlantic Yards and smaller projects, like a North Dakota factory that makes biodegradable food containers.
But critics argue that it's a way for the global elite to buy U.S. citizenship. They say the scheme has too much red tape and parts of it are mismanaged to the point of fraud.
A number of reform proposals have been floated in Congress, which recently issued a temporary stopgap measure that will keep the current program running past its original expiration date until early December.
Here are four ways the program is likely to change:
1) It's going to get more expensive
The EB-5 program currently requires foreign investors to invest at least $500,000 or $1 million depending on the project, and prove those funds helped to create jobs. One of the legislative proposals on the table now would raise those amounts to $800,000 to $1.2 million, while keeping the job-creation provisions.
The program, which has been around since 1990, is long overdue for an investment amount adjustment, though the higher rate is unlikely to "decrease the number of people investing in the program," said Marcum's David Appel, an accountant who works on EB-5 issues.
It does, however, mean it will be tougher for wealthy Chinese to participate. China has strict capital controls, which restrict the amount of cash that individuals can take out of the country. A higher investment amount will mean that interested applicants will have to plan further in advance to move the funds out of China.
Still, even at an increased rate, the U.S. program remains cheaper than similar programs in other countries.
Related: U.S. runs out of investor visas again as Chinese flood program
2) Increased financial disclosures
Projects seeking EB-5 funding will likely be required to provide more information about how investor money is being spent. Increased scrutiny is also expected to show that parties working on the investments -- such as real estate developers -- don't have a criminal history.
"There will be more disclosure of who is getting paid with their money, what use is being made of their money ... so the government can see if there is any fraud going on," said Ron Klasko, an immigration lawyer. "These are really protections for the investors."
At the same time, investors will probably also be subject to a more thorough review of where exactly their investment funds came from. They'll have to be able to prove that it was legally earned and transferred to the U.S.
Some proposals in Congress would even prohibit some funding sources, such as a large monetary gift from a friend.
The EB-5 program has been a target for fraud, from both businesses and investors.
Earlier this year, Shilan Zhao, the ex-wife of a former Chinese official, was arrested in Washington state on charges of money laundering and immigration fraud, according to the U.S. Department of Justice. Zhao and her ex-husband, Jianjun Qiao, were charged with fraudulently obtaining visas through the EB-5 program.
Related: Cash for passports: How much it costs to buy a visa
3) Investors may have to invest in rural towns they've never heard of
Lawmakers are locked in a battle over whether EB-5 projects should be focused on rural or urban areas. Current projects are in both, with many in big cities, such as New York or Los Angeles.
Some say investments in affluent urban areas are effective in adding jobs to a community, as they're often surrounded by low employment areas. A major skyscraper being built in Manhattan, for example, is likely to create jobs for people who live in the surrounding area, who can't afford to live in the city, Klasko said.
Others, however, say the program should be focused on sending funds to rural areas where more people are seeking work.
The problem is that "Chinese investors are less interested in rural areas," said immigration attorney Bernard Wolfsdorf. They feel more secure sinking their money into places they're familiar with, such as San Francisco, rather than a small town in Iowa.
Experts say this particular point is a typical political battle -- members of Congress seeking investments for their home states and districts -- and it remains to be seen how this issue will be resolved.
4) The changes could be retroactive
With these changes, lawmakers can choose when they'll be effective. They could decide to allow them to kick in immediately, or in the future, but they could also choose roll back the effective date. That means applicants who had applied previously to the program could all of a sudden be subject to new requirements and a higher investment amount.