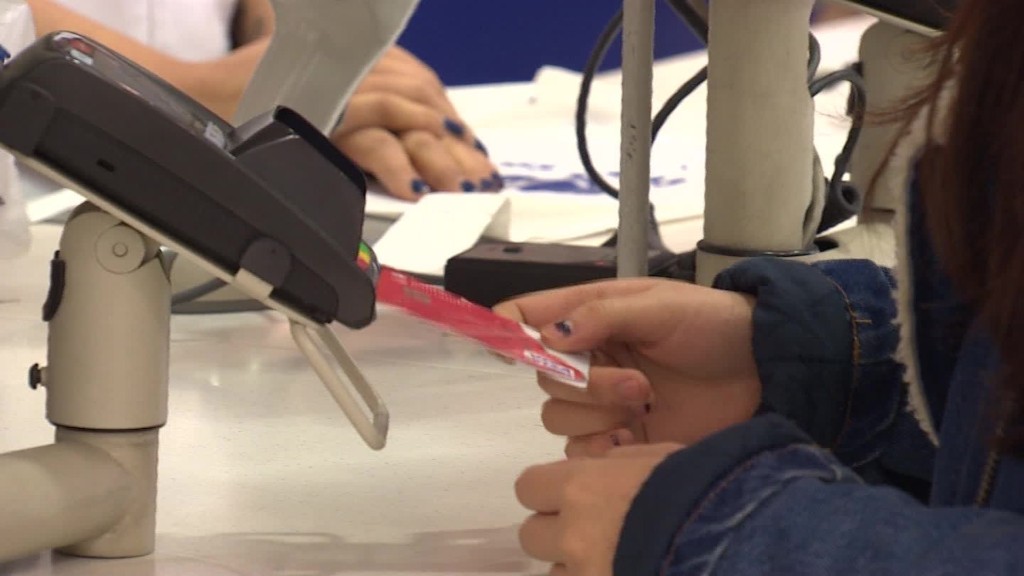 New chip-based credit cards are hitting mailboxes across the country, but the change hasn't exactly been seamless.
Some consumers and businesses have been experiencing missed payments and service interruptions because the credit cards they had on file for automatic payments are no longer valid.
Netflix (NFLX) even called out the new chip cards as a reason the subscription-based company missed U.S. subscriber growth forecasts. Because some customers didn't update their accounts, they missed their payments, the company said Wednesday in a letter to shareholders.
While not all of the new cards issued will necessarily come with changes that affect use, some will. The main culprit is the expiration date.
"There's a pretty good chance that your expiration date might have changed when you get the new card," said Matt Schulz, senior analyst at CreditCards.com. "That could cause a problem when you have a subscriptions."
Related: Got a new credit card in the mail? Here's why
Banks have been sending out new credit cards that have a small microchip on the front that make them more secure than magnetic-stripe only cards.
Automating payments can be a big time saver. Payments like a gym memberships, streaming accounts, utility bills and subscriptions tend to be attached to a credit card and need to be updated when a new card is issued.
"There are a number of things you subscribe to and don't pay on a regular basis that you set and forget that could be impacted," said Schulz.
Here's what you need to do:
Compare the account number, expiration date and security code against the old card. Any changes mean you have to update automatic payments attached to the card.
To find all the automated payments tied to a credit card, follow the digital paper trail.
"Look at your online credit card statements going back many months and you will be able to see which transactions are automated," said Beverly Harzog, author of The Debt Escape Plan.
You might also hit a roadblock when checking out at your favorite online retailers: Any saved payment data information will also need to be updated with the new information.
If you've missed a payment due to a new card, Harzog recommended calling the creditor and explain what happened. "I have a feeling they are going to get a lot of calls about this; it's an unusual situation."
While one missed payment isn't likely to impact your credit if it's quickly remedied, an undiscovered long-term missed payment will do damage.
"The better your score the bigger your drop," Harzog said.
While the new cards offer more protection, they aren't invincible to fraud. "The new cards are going to cut down counterfeiting ... but online fraud is still going to occur so stay on your toes," Harzog said.