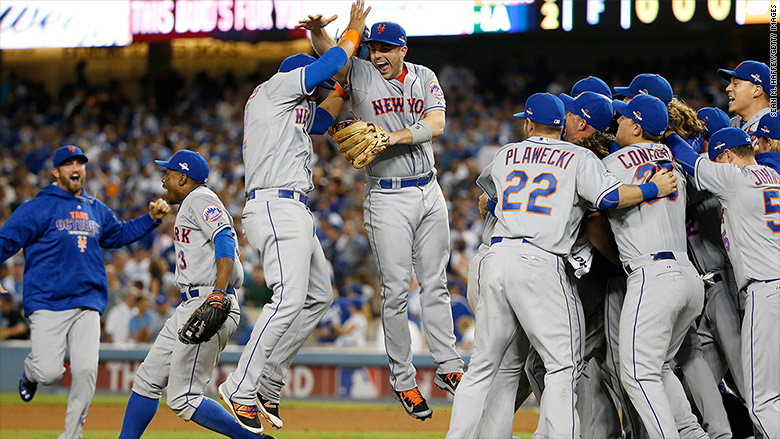 The 2015 New York Mets are in the middle of a magical October, having dispatched the Chicago Cubs in a four-game sweep to seize the National League pennant for the first time in 15 years.
Wanna go see them in the World Series? Be ready to open your wallet wide.
Tickets for three Mets home games during the World Series are selling for an average of $976 (Game 3), $1,073 (Game 4) and $1,107 (Game 5), according to ticket tracker SeatGeek.
"It is quite possible that if the Mets jump out to an early lead this year we could see the most expensive World Series tickets since at least 2010, when we started tracking the secondary market," said Chris Leyden, a content analyst at SeatGeek.
The highest price recorded by SeatGeek was $1,175 for Game 6 of the 2013 World Series, when the Boston Red Sox vanquished the St. Louis Cardinals.
Meanwhile, TiqIQ, which tracks the listing price of re-sale tickets, said the average asking price for Mets home games for the World Series is $1,667.82, making them the most expensive on record.
Nevada goes after fantasy sports
The Mets have won the World Series only twice, most recently in 1986. This year, the team's postseason run has been powered by second baseman Daniel Murphy, who has crushed seven homers in a bid to become baseball's new Mr. October.
A World Series win would give long-suffering Mets fans the chance to exorcise the demons of seasons past.
Few fans have been tormented more.
The Cubs have not been to the World Series since 1945, and haven't won a championship since 1908.
Fans of Toronto and Kansas City, one of which will face off with the Mets, have all gone decades since their last championship, although all have won within the last 30 years.