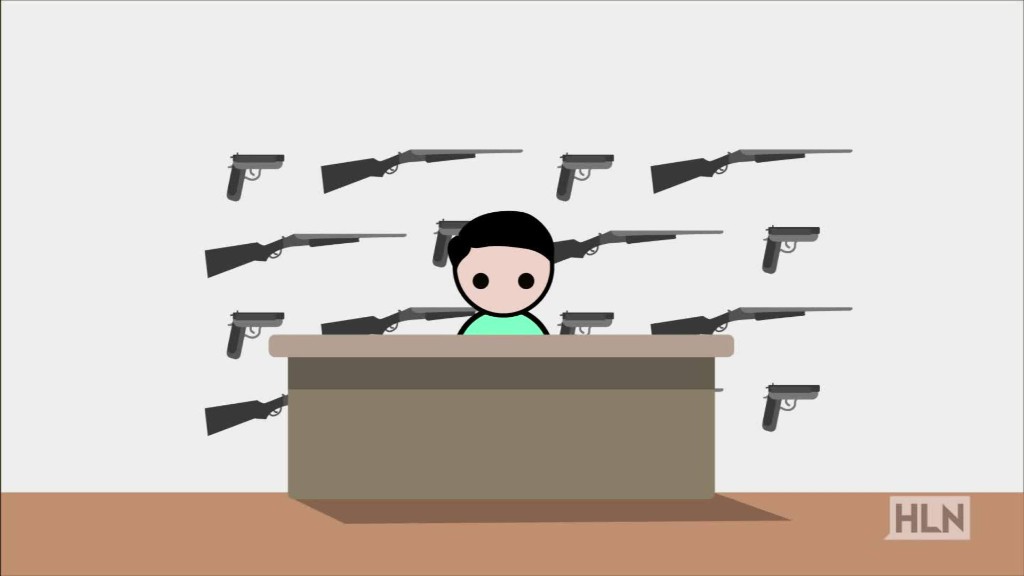 Where else, but a gun show, would you see a man with an oxygen tank pushing a walker and wearing a sign trying to sell a Chinese AK-47 ($845) and an Albanian military rifle ($695)?
Or where else would you see a spread of folding tables displaying survival knives, machetes and T-shirts reading "Zombie Outbreak Response Team?"
America is teeming with gun shows: Dozens every weekend, in every region of the country from Texas to New York, California to Florida, Maine to Washington. Dealers gather to display guns and related products under one roof. Enthusiasts travel from far and wide to attend.
CNNMoney visited one gun show in Harrisburg, Pennsylvania, to witness the scene first hand.
An arsenal for sale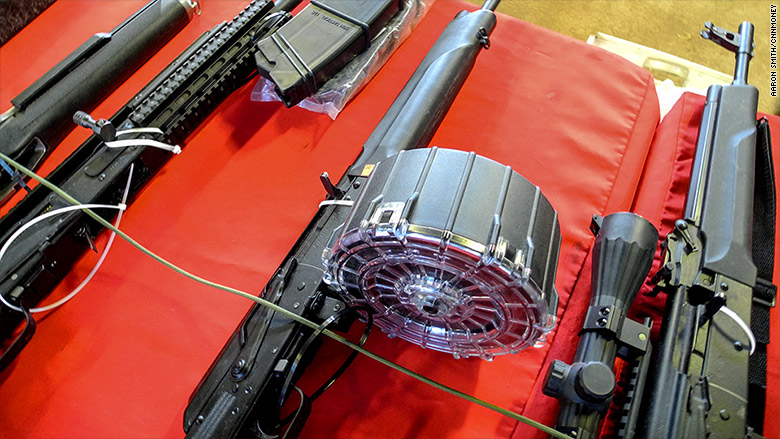 The Harrisburg show, held October 10-11, was put on by C&E Gun Shows from Virginia.
The expo, held in a sprawling complex that also hosts farm exhibits and car shows, featured thousands of rifles, shotguns and handguns displayed on hundreds of tables.
There were AR-15s, Glocks, World War II rifles with bayonets, Wild West revolvers, a 19th century elephant gun, a shotgun with a 25-shell drum, a hot pink hunting rifle, and high-caliber Barrett sniper rifles. Some dealers specialized in antiques; other focused on tactical guns or pistols.
Steve Elliott, the owner of C&E Gun Shows, counted 149 vendors who rented a total of 650 tables for $70 each.
Elliott said about 95% of the gun sellers at his show were federally licensed, which means they're required to conduct background checks before selling a gun at the show.
"I wouldn't sell a gun to someone without knowing who I was selling to," he said. "The last thing you want to do is sell a gun that's used in a crime."
The law of background checks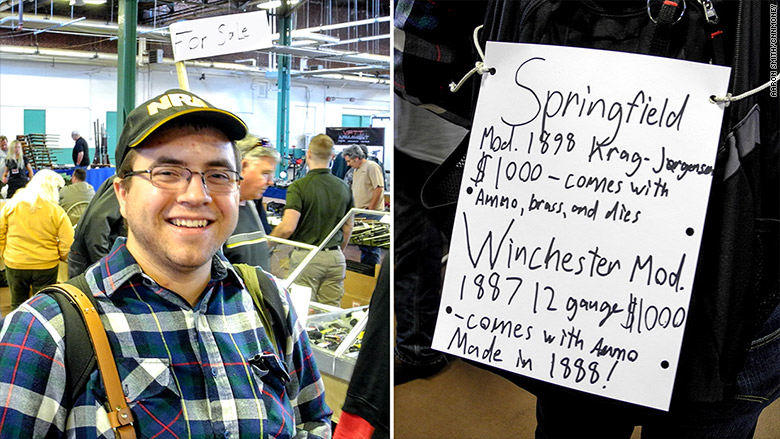 Licensed gun dealers must, by federal law, run background checks on all buyers -- whether the purchase is made in a store or at a gun show.
The checks work like this: A buyer presents his or her ID to the seller and fills out a form with personal information such as age, address, race and criminal history, if any. The seller then submits the info to the FBI, which checks it against databases. The process takes a few minutes.
This is the National Instant Criminal Background Check System, also known as NICS.
Some states have stricter rules about gun shows. Only 12 states require expanded background checks at gun shows for handguns as well as rifles and shotguns, according to the Brady Campaign, a gun control group. Advocates of gun control call that the gun show loophole.
At a gun show in Pennsylvania, it's legal for unlicensed dealers to sell rifles and shotguns without conducting a background check.
At the Harrisburg show, CNNMoney spotted only five unlicensed sellers. They didn't have tables; instead they wore or carried handwritten placards advertising guns.
Alex Pierce was one of those mobile sellers. He walked the floor, an NRA cap on his head and two 19th century guns -- a rifle and a shotgun -- slung over his shoulders. He had "for sale" signs in the barrels like pennants.
"In Pennsylvania, the law is: long guns and shotguns you can sell to a person without running a background check," said Pierce, who was selling the guns for $900 each.
Rules of the Keystone State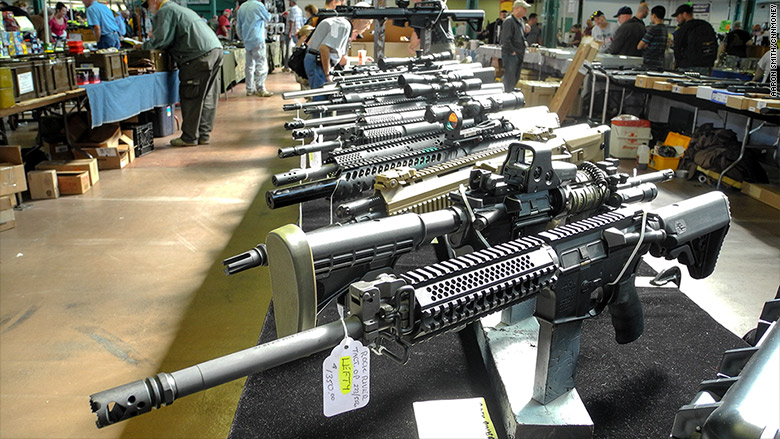 Pierce is right about Pennsylvania law. The Pennsylvania State Troopers say a seller without a federal license doesn't have to do FBI checks. (Only handguns, which are considered more deadly because they can be easily concealed, require background checks.)
But buyers from outside of Pennsylvania must have guns they purchase at the show shipped to a federally licensed dealer in their home state, where a background check will be run, according to the NRA.
The thing is, Pennsylvania law doesn't require unlicensed dealers to ask buyers of rifles or shotguns for identification. So some show purchases in Pennsylvania can be made without the seller knowing whether the buyer is from out of state.
This is important, considering that Pennsylvania is bordered by six states. Four of them -- New York, Maryland, New Jersey and Delaware -- have more restrictive gun laws than Pennsylvania.
New Jersey, which doesn't allow gun show sales at all, requires background checks for all gun sales. And Maryland requires background checks for all gun sales, whether the dealer is licensed or not. The Maryland state line is less than 40 miles away from Harrisburg.
"There are people here who sell guns without a federal background check and to me that's wrong," said Jami Nolan, a licensed dealer at the Harrisburg show. "They're stealing business from us, if they're doing it for a living." (For $10, Nolan will run a background check on a buyer for an unlicensed dealer who asks.)
Knives, zombies and Kalashinikitty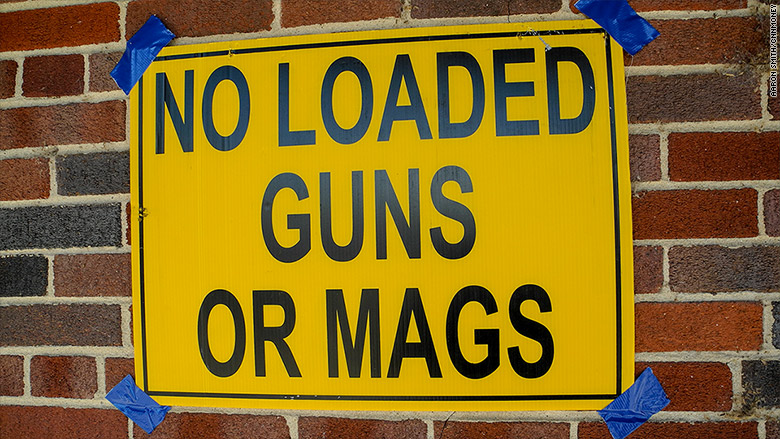 Gun shows aren't just about guns. Some sellers were offering a wide variety of non-gun products, including thousands of survival knives, ranging from $2 folding knives to deluxe models costing hundreds of dollars.
Some tables were piled with survival rations. Others offered beef jerky or venison. One vender sold nothing but chocolate fudge.
Other vendors sold Confederate flags and "Don't Tread On Me Flags" with the yellow rattler. Others sold DVDs, mostly war movies, or books focusing on guns and military history.
Tables were piled high with T-shirts. Some were serious, with grim slogans and skulls. Some were political; one seller had shirts bearing Donald Trump's campaign slogan, "Make America Great Again."
And then there were the not so serious, like the stacks of pink T-shirts with a likeness of Hello Kitty holding an AK-47.
The slogan? "Kalashnikitty."