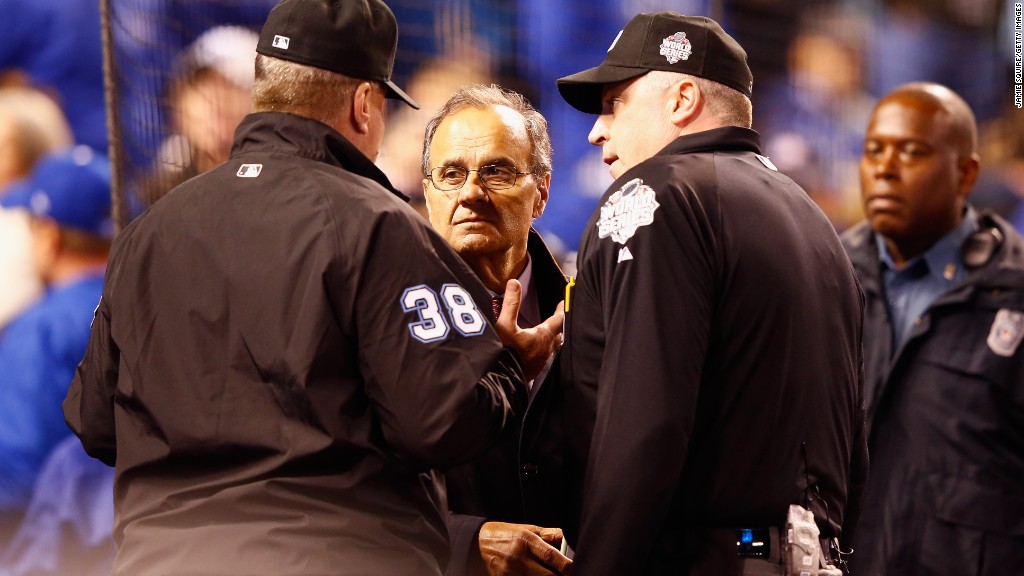 Hours before the New York Mets lost Game 1 of the World Series to the Kansas City Royals, Fox Sports lost power.
With the teams tied 1-1 in the fourth inning, an electronics failure cut the power to the primary and backup generators inside Fox Sports' production compound, Fox Sports said.
The result: a four-minute outage in the game broadcast and a lot of confused baseball fans.
"The issue was immediately addressed, although it resulted in the audience missing one at-bat during the time needed to switch to carriage of Major League Baseball's international feed, powered by a different generator on site," Fox Sports said in a statement.
Fox Sports apologized for the broadcast's interruption.
The outage, which lasted from 9:19 p.m. ET until 9:23 p.m. ET, left many viewers perplexed as to what had happened.
"We apologize for technical difficulties with our #WorldSeries Broadcast," Fox Sports tweeted. "We are working on fixing the issue ASAP."
The outage caused Fox to use the MLB Network's announcing team during the technical issues. It also temporarily deprived the Mets and Royals of their video feed of the game that teams normally use to determine whether to ask for a video replay review of umpire calls. Both teams agreed to continue without the feed.
It also caused social media to poke fun at Fox and its announcing team, Joe Buck and Harold Reynolds.
"Somewhere, Harold Reynolds is still calling this game, doing the best work of his career," tweeted Grantland writer Mark Lisanti.
The broadcast resumed after the technical hiccup.
"What an amateur show for Fox!" tweeted CNN analyst Bill Carter.
Google Fiber also experienced technical difficulties in Kansas City Tuesday night.
"With the World Series playing, we know this was an important night for Kansas Citians, and we're sorry for the interruption," said a Google spokesperson.
Google said its service was restored within an hour by 10:15 p.m. ET.
A Fox Sports spokesman said the channel does not expect any financial impact from the outage.
Fox, which has broadcast every World Series since 2000, pays Major League Baseball an average of $500 million annually under an eight-year deal that covers the World Series, some playoffs series, as well as regular season games and the All-Star game.
-- CNN's Joseph Netto and CNNMoney's Chris Isidore contributed to this report.