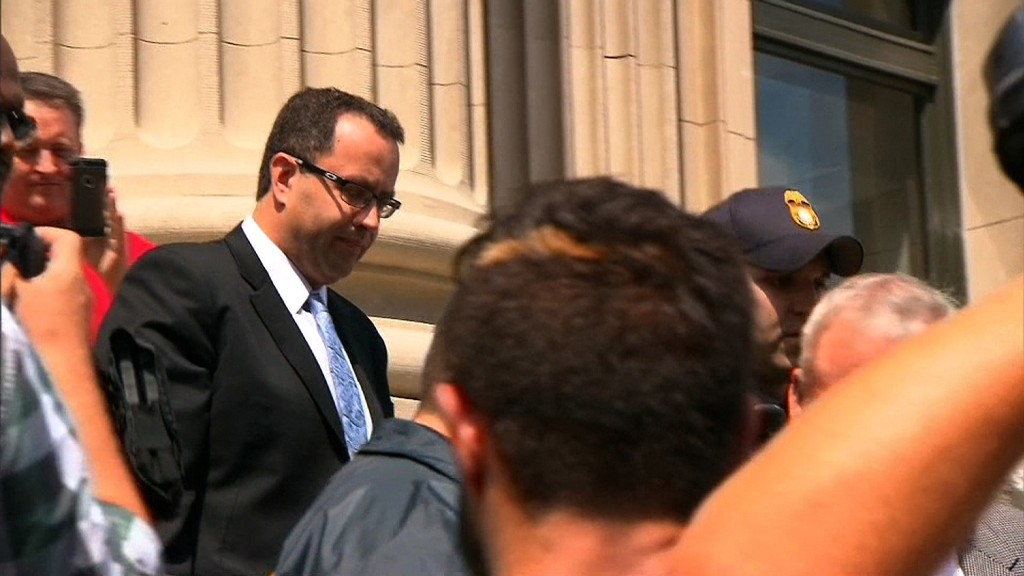 Prosecutors want Jared Fogle, the longtime former pitchman for Subway, to serve more than 12 years in prison for crimes including possession of child pornography and having sex with minors.
At a hearing scheduled for next week, prosecutors want a judge to sentence Fogle to 151 months in prison.
Fogle, 38, earlier signed a plea deal that requires him to pay each of his 14 victims $100,000.
When Fogle's prison term ends, prosecutors hope to put him on supervised release for the remainder of his life. He will also have to register as a sex offender.
"Fogle's actions greatly impacted the lives of 14 children and their families. He denied them their vital and personal right to grow up free from sexual exploitation and interference by adults," prosecutors said in a court filing.
Related: Rise and fall of Jared Fogle
Fogle, who lost 245 pounds by eating nothing but Subway for a year, gave the sandwich shop the image of being a purveyor of healthy options. In return, Subway integrated Fogle's personal weight loss story into its marketing campaign for 16 years.
While Fogle didn't single-handedly turn Subway into what it is today, his story certainly helped the chain's image and popularity.
Today Subway has 44,000 stores in 110 countries -- significantly more than McDonald's, which has roughly 36,000 stores worldwide, and Starbucks, which has 22,000.
-- Ahiza Garcia and Mariano Castilo contributed to this report.