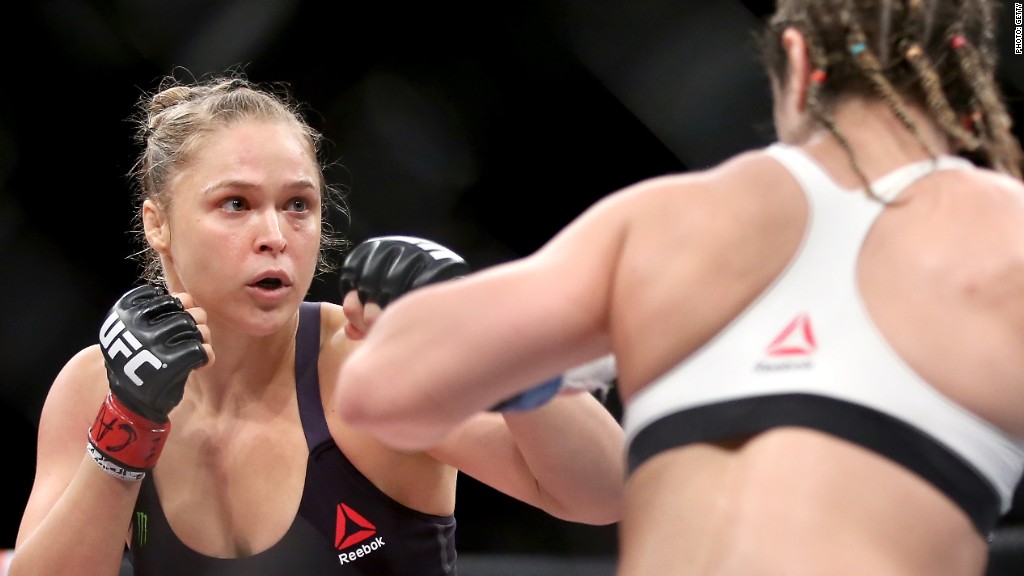 Unless you're a big fan of mixed martial arts, you probably can't name too many male stars of the Ultimate Fighting Championship league.
But Ronda Rousey? It's highly likely you recognize her name -- even if you're not that into sports.
Rousey has quickly become the Michael Jordan, Wayne Gretzky, Peyton Manning and Babe Ruth of the UFC.
Not bad considering that UFC president Dana White said women would "never" fight in the UFC just four years ago.
The UFC is obviously singing a different tune now.
Nearly 70,000 people are expected to watch Rousey take on Holly Holm at UFC 193 in Melbourne, Australia on Saturday.
Related: A rate glimpse into the Michael Jordan marketing machine
And UFC CEO Lorenzo Fertitta thinks there's a good chance that UFC 193 will wind up being the league's top pay-per-view event this year as well, surpassing Rousey's last fight.
Fertitta says the event could draw more than 1 million pay-per-view buys. Rousey's match against Bethe Correia in August generated 900,000 pay-per-view buys.
"Rousey has consistently outperformed expectations for us. There are very few athletes in the world of pay-per-view that consistently deliver. But she generates about two times the pay-per-view buys than the average UFC event." Fertitta said.
The rise of "Rowdy" Rousey has also lifted the UFC's ratings on Fox Sports 1 as well. Figures from Nielsen show a 27% increase in household viewers for Fight Night telecasts on the Fox (FOXA)-owned cable network.
Why is Rousey so popular? It's a combination of her Mike Tyson-esque dominance (she's undefeated and her fights usually last just seconds) and her personality.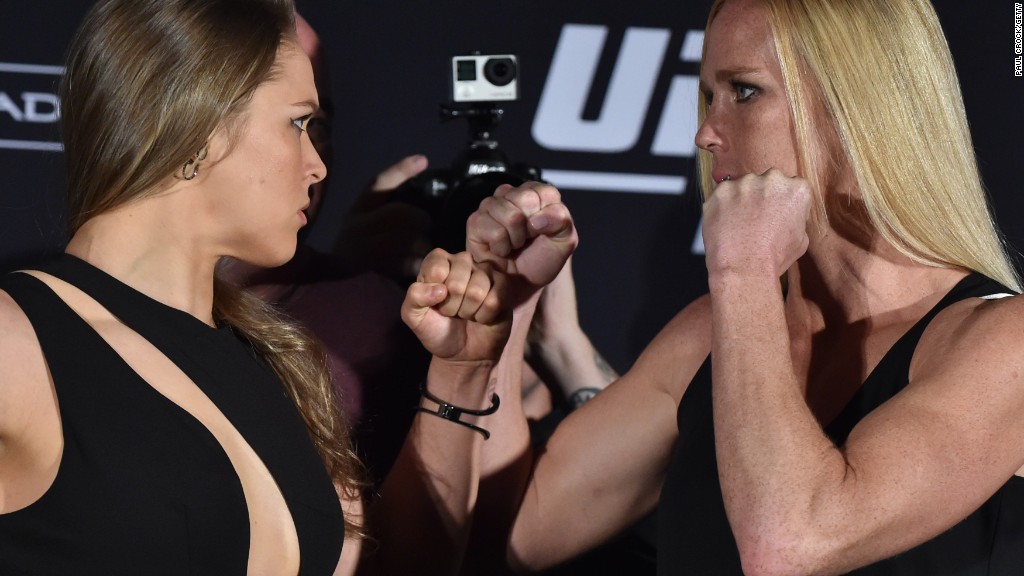 She's just as good talking trash about her opponents outside of the UFC's signature octagon as she is pummeling them into submission inside of it.
Rousey told CNN's Kate Riley this week that she is willing to die for the sport while Holm is "just there for a paycheck."
Fertitta even goes so far as to compare her to arguably the most famous athlete of all-time.
"Fifteen years ago, if you told us that our Muhammad Ali would be a woman, we wouldn't have believed you," Fertitta said. "But we are incredibly proud of Ronda. She is not just the biggest star in UFC today. She is the biggest star we've ever had."
So the challenge now for UFC is to capitalize on Rousey's growing legend.
It's no coincidence that the other big fight on the UFC 193 card features two other female fighters -- Joanna Jedrzejczyk against Valerie Letourneau.
"That's done for a reason. That's how you build stars," Fertitta said. "Our job as promoters is to continue to develop talent -- not that anybody could replace Ronda Rousey."
Related: 'San Andreas' proves that former wrestler Dwayne 'The Rock' Johnson is a star
Fortunately, UFC probably won't have to replace her just yet.
But it may not be long before Rousey decides it's better to fictitiously beat people up on the silver screen for a living instead of doing it for real in the octagon.
Rousey has already had cameo appearances in action movies "Furious 7" and "The Expendables 3" this year. And she's set to star in a remake of the classic Patrick Swayze film "Road House."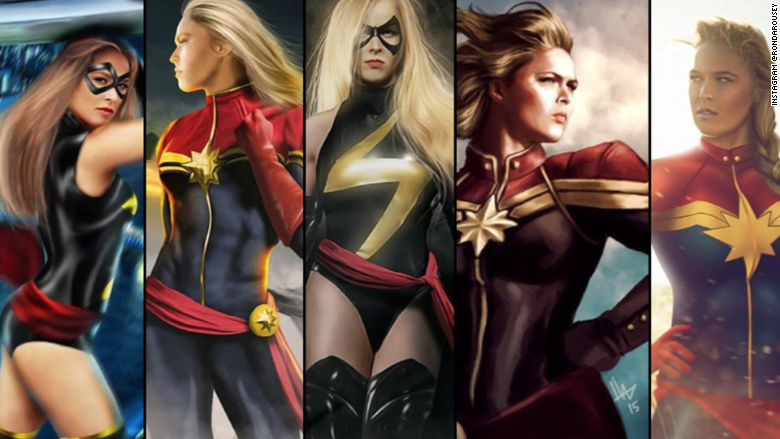 And after she said during a Reddit AMA she'd be interested in playing Captain Marvel -- a comic book character that is getting its own movie from Disney (DIS) in 2019 -- fans started posting artwork of her in the Captain Marvel uniform on Instagram.
It makes sense that Rousey would want to become a Hollywood mega star.
Related: Floyd Mayweather: The star athlete no sponsor will touch
According to figures from Nielsen, 44% of Americans know who she is. And of that group, 70% think she's likable.
Rousey already has endorsement deals with Adidas (ADDDF)-owned Reebok, the Carl's Jr. hamburger chain and T-Mobile's (TMUS) MetroPCS brand.
Just this week, Monster Energy (MNST) announced that Rousey and several other UFC stars will become new sponsors.
And a spokesman for Regan Arts, the publisher of her memoir "My Fight/Your Fight," said the book is now in its sixth printing and that the company has decided to delay the paperback edition of it since hardcover sales continue to be so strong.
Fertitta seems to recognize that UFC must do all it can to take advantage of what it's promoting as the #rouseyrevolution on social media.
"UFC is more in the mainstream now but it's not yet where we'd like to be. We have room to grow. So it's great to have these breakthrough stars that create awareness," he said.
Another Rousey victory on Saturday would likely do wonders for the sport.
Fertitta won't be in Melbourne to watch it live though. But he has a good reason for missing the history-making event.
"My son plays for Notre Dame. I'm heading to South Bend, Indiana," he said. Nicco Fertitta is a safety for the Fighting Irish.
CNNMoney's Abigail Brooks contributed to this report.