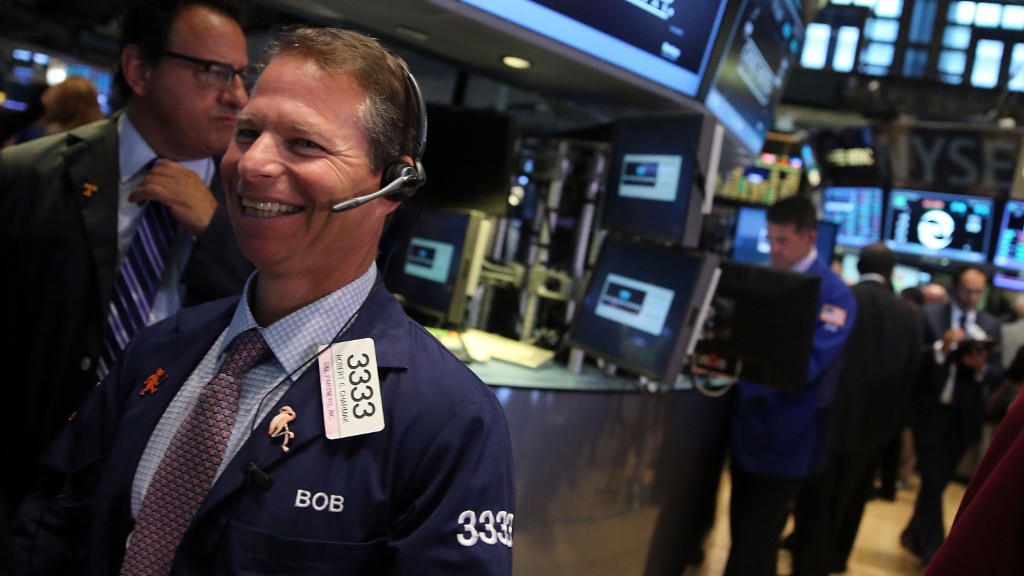 If you're searching for an excuse to splurge on a gift this Cyber Monday, just check your investing portfolio.
Roughly 70% of investors made money in November, according to data shared exclusively with CNNMoney by Openfolio, which allows users to see how their investment portfolios stack up against others. The firm analyzed the performance of 15,000 retail investors.
November wasn't a blockbuster month for stocks like October was, but it did represent a return to stability following the market mayhem that erupted late in the summer. Back in September only 6% of Openfolio investors made money as the S&P 500 wrapped up its worst quarter in four years.
Tech stocks created the most value for the average investor in November. The tech sector has been one of the best performers in 2015, as evidenced by the Nasdaq's 8% year-to-date gain. By comparison, the S&P 500 is up just 1% in 2015.
Netflix fires up portfolios (again)
Netflix (NFLX) was the biggest money maker this month for retail investors, Openfolio said. The streaming movie service has been cleaning up lately. Netflix shares have skyrocketed 153% this year, making it the biggest winner on the S&P 500. The stock padded those enormous gains by jumping 14% in November.
All of this represents a dramatic rebound since Netflix reported third-quarter subscriber growth in mid-October that failed to meet Wall Street's lofty expectations.
The Netflix resurgence is great news for the average investor. That's because Netflix is owned by nearly 6% of all Openfolio users, making it the 9th most popular.
Related: Netflix roars back to life
Other big wealth creators in November include popular stocks like Tesla (TSLA) (up 11% this month) and Amazon (AMZN) (up almost 7%). Shares of Amazon have spiked 115% this year, making it one of the few retail stocks to do well this year. Traditional retailers like Wal-Mart (WMT), Sears (SHLD) and Best Buy (BBY) are all down double-digits.
Some of November's most overlooked hot investments were also in tech land, Openfolio said. That includes Baidu (BIDU), which is China's version of Google, and corporate data storage company Box (BOX).
Related: Retail stocks are stinking lately, except...
Stocks are back in fashion, especially if they're European
Investors seem more comfortable owning equities in general lately. Across the board, bonds fell in popularity among Openfolio users. That includes a 12% decline in the holdings of junk bonds, the previously-popular risky debt that Carl Icahn and others have been warning look like they are in bubble territory.
Instead, people are gobbling up European stocks, which enjoyed a 19% surge in popularity in November. That makes sense because Mario Draghi, the president of the European Central Bank, signaled in late October that the ECB is likely to throw more money at Europe's struggling economy. The ECB's previous money-printing efforts have lifted the value of European stocks in the past.
Openfolio said investors are also ramping up on aerospace and defense stocks, especially Lockheed Martin (LMT).
That's generally been a smart move because shares of defense contractors like Lockheed, Raytheon (RTN) and Northrop Grumman (NOC) have risen since the terror attacks in Paris. Wall Street is betting the horrific violence will cause governments to ramp up military spending in an effort to defeat ISIS.