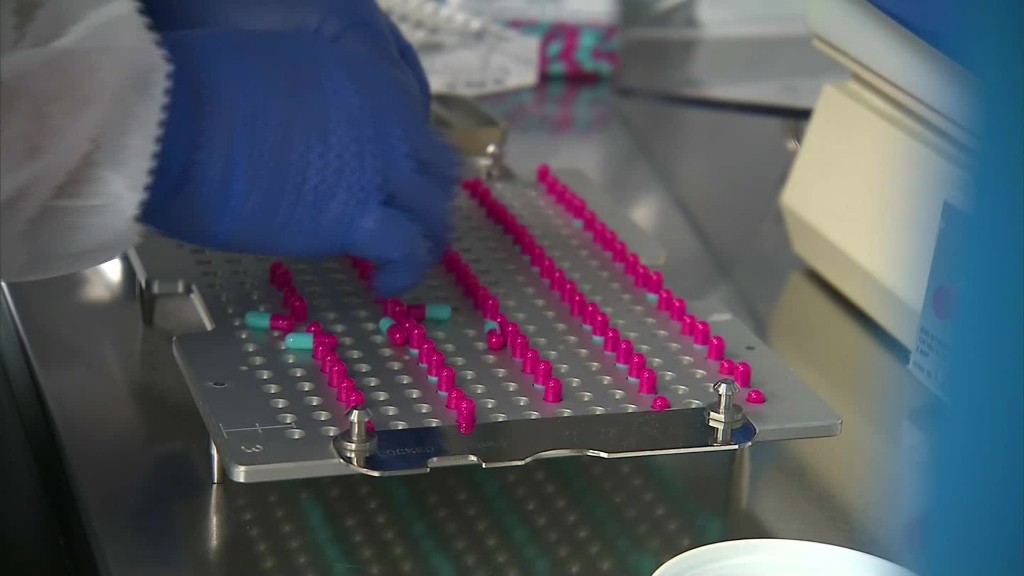 Drug maker Imprimis Pharmaceuticals just found a backer to distribute its $1 alternative to Daraprim, the infection-fighting drug whose price was hiked 5,000% by Turing Pharmaceuticals.
Express Scripts (ESRX), a major manager of prescription drugs, announced Tuesday that it will offer patients the low-cost Imprimis drug, instead of Daraprim, starting as soon as this week.
Express Scripts is the country's largest pharmacy benefits management company, which work between pharmacies and patients and their insurers.
The Imprimis (IMMY) drug, a compound of pyrimethamine and leucovorin, will cost $1 a pill through Express Scripts. The competing Daraprim drug costs hundreds of dollars per pill.
Daraprim has been on the market for over 60 years and is used by some AIDS and cancer patients to treat a specific type of infection.
But Turing hiked Daraprim's price earlier this year from $13.50 a pill to $750. Martin Shkreli, Turing's outspoken 32-year-old CEO, was widely blasted in public.
Previously, Turing Pharmaceuticals said it will offer hospitals Daraprim at up to 50% off the list price. It said hospitals are the first to use Daraprim to treat 80% of patients who have parasitic toxoplasmosis encephalitis, the most common form of toxoplasmosis in the United States.
The typical Daraprim dosage is between 50 mg and 75 mg a day for one to three weeks and can be followed by an additional 25 mg a day for four to five weeks if needed, according to the FDA. So even with the discount, a normal course of treatment for toxoplasmosis could cost between $5,200 and $36,700.
Imprimis announced in October that it would offer the low-cost alternative to Daraprim. It said the substitute drug could be purchased for as little as $99 for a 100-capsule bottle.
Express Scripts said Tuesday it would work with organizations like the Infectious Disease Society of America and the HIV Medicine Association to teach physicians the value of prescribing Daraprim's alternative.