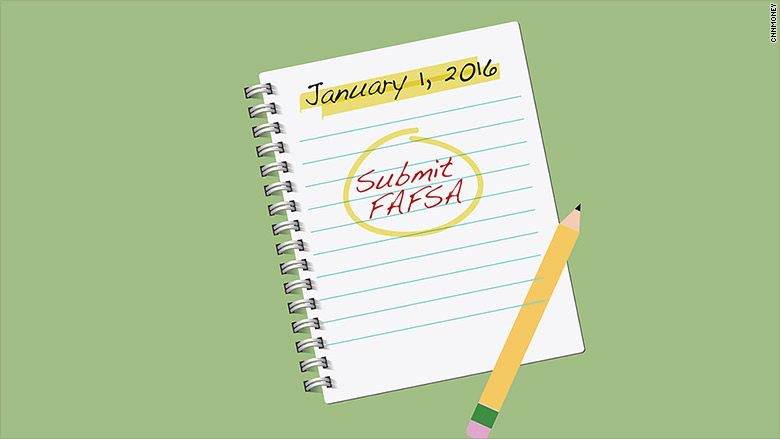 Happy New Year! If you plan to attend college in 2016, the first thing you should do after that midnight kiss is... fill out your FAFSA form.
Seriously, do it now. January 1 is the first day you can submit the nationwide college financial aid form and the sooner you do, the better. You could stand to lose some scholarships or grant money if you wait.
You have to submit the FAFSA to get any financial aid award next year. That includes federal and state grants, as well as scholarships from your state and school -- all of which you won't have to pay back. The form also helps determine how much you can borrow from the government, which is key because federal loans are likely to come with lower interest rates.
The form is a pain to fill out. But here are five things you should know to make the process a little bit easier.
1. It's online and it's free.
Don't fall for a scam. You don't need to pay anything to submit the FAFSA. It goes live on this government website at 12 a.m. CT and should take about 30 minutes.
2. Some states run out of grant money.
When you submit your FAFSA should not impact the amount of financial aid you get from the federal government, but it could change the amount you can get elsewhere. Some state grants are awarded on a first-come, first-served basis until funds run out, including some in Alaska, Illinois, Kentucky, North Carolina, South Carolina, Tennessee, Vermont and Washington.
3. Watch out for multiple deadlines.
Online applications must be submitted by June 30. But check with the college you're applying to and the state where you reside. They can all have different deadlines that start coming up as soon as February.
4. You need to know your parents' income.
Use your parents' tax records so that you can report their accurate income information on the form. But you don't have to wait for W-2 forms or tax returns. Estimate income based on the year before and update it later.
5. Don't assume you're too wealthy.
The amount of aid granted to students is largely based on family income. The value of the home and retirement savings are not taken into consideration. And a family with more than one child in college could be eligible for more aid.
A new tool from the White House called the College Scorecard can also estimate how much you'll have to pay to attend a specific school, based on your family's income. Remember that many students pay much less than a college's tuition "sticker price."