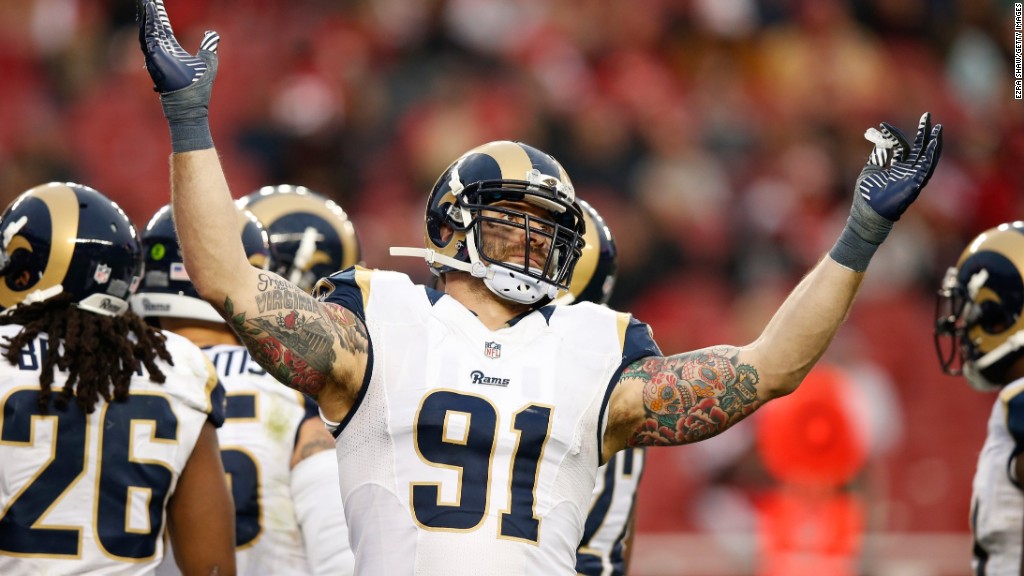 Sorry, St. Louis! But the Rams are moving back to Los Angeles for the start of the 2016 football season. So you'd think that the official website for the team will change from www.stlouisrams.com to www.losangelesrams.com, right?
Not so fast. The losangelesrams.com domain is already registered ... to an owner of a used car dealership and storage facility in Rapid City, South Dakota. Is he about to cash in if the NFL wants the domain name?
Brian Busch, who owns Anytime Auto Sales and Storage, told me he didn't claim the name with visions of getting a big payout. He wasn't doing what's known as cybersquatting -- holding a domain name hostage.
Busch said he first registered the domain way back in 1997 -- two years after the Rams first moved to St. Louis from LA. He said he's probably spent about $1,000 to $2,000 over the past 19 years to keep the domain for this long.
And according to the ICANN domain registration database, Busch has the rights to the website address locked up until January 2024.
Related: How the Rams owner beat the NFL old guard to move back to LA
Busch said it was never his intention to make money from the domain name. After all, the likelihood of the Rams returning to Hollywood didn't really pick up steam until Rams owner Stanley Kroenke bought 60 acres of land in Inglewood, California in 2014.
"I'm a lifelong Rams fan. I bought it in order to set up a tribute site," Busch said. "I have a signed Roman Gabriel jersey in my office." (Gabriel was a quarterback for the Rams from 1962 through 1972 and won the NFL MVP award in 1969.)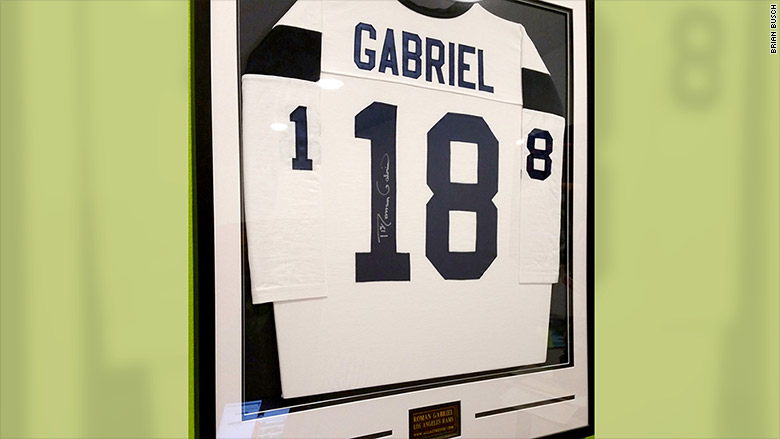 Busch, 54, is a South Dakota native. But he said he decided to be a Rams fan in the 1970s because all his friends rooted for the Minnesota Vikings -- the closest NFL team to Rapid City. He wanted to be different.
"Many people in South Dakota are Vikings fans. I didn't want to be a Vikings fan," Busch said. "The Rams often played the Vikings in the playoffs. I loved their old helmet with the white horns. They looked cool."
Busch never wound up developing the website as an homage to those great 1970s teams as planned. It's currently just a parked Web page being hosted by domain registry GoDaddy.
"I got busy with life, had some kids and it got put on the back burner," he said.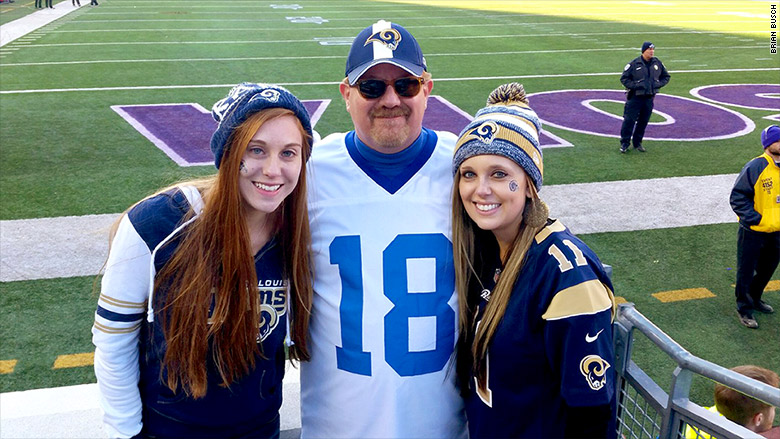 But he's still a huge Rams fan, adding that he's thrilled to see them move back to Los Angeles. Busch even took his two daughters to Minnesota this November to watch them play the Rams.
The Vikings won that game 21-18 in overtime. Kicker Blair Walsh won it with a 40-yard field goal. (Vikings fans are probably cringing to see "Blair Walsh" and "field goal" in the same sentence after Sunday's heartbreaking playoff loss.)
So what now? Busch is expecting a call from the NFL and the Rams -- and he's willing to negotiate.
Related: NFL approves Rams return to LA
The NFL was not immediately available for comment. But other domains that the Rams could conceivably use in the City of Angels have already been scooped up as well.
The larams.com site is registered to a company called Pool.com with an address in Ottawa, according to ICANN domain. A phone call to the number listed for the registrant went to an automated message service.
But when you go to the site, there is a banner that says "this domain may be for sale."
Clicking on that brings you to a website for ParkLogic, a self-described "doman asset management firm" in Australia. ParkLogic was not immediately available for comment.
And then there's rams.com. That's a site featuring fun facts about the animal. I found out that ram is the "correct term for the male bighorn sheep" and that "a Rocky Mountain bighorn ram's horns can weigh 30 pounds."
But the NFL is going to have to change the domain for the Rams at some point before the start of next season. So Busch is probably the league's best bet to get a new relevant address.
"I hope we can work out some sort of deal," he said, adding that he had no idea what kind of price he'd ask for.
Some context for him though: Major League Baseball bought the rangers.com domain for the Texas Rangers team last year for $375,000! The NFL and Rams billionaire owner Kroenke should have no problem coming up with at least that much.