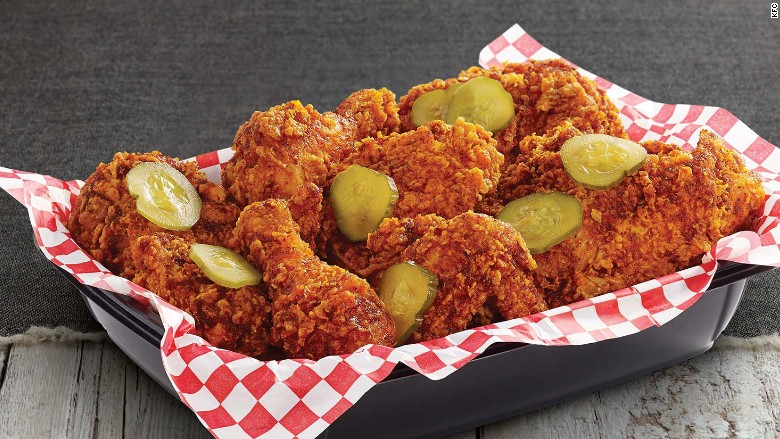 KFC thinks Nashville can do for chicken what Buffalo once did.
The Louisville, Kentucky-based fast-food chain is rolling out its newest menu item -- "Nashville Hot Chicken" -- to all 4,300 of its U.S. stores on Monday.
"We think it will be the biggest spicy chicken innovation to happen since Buffalo wings in the 1980's," Kevin Hochman, the chain's U.S. chief marketing officer said at a media event Thursday in New York.
"Right now, it's hard to to find Nashville Hot Chicken unless you live in Nashville. So we're bringing it to you," he said.
The fried chicken is a combination of spicy, smoky and crispy and pays homage to a popular local specialty of Nashville.
KFC's Nashville Hot Chicken is also only the fourth chicken flavor added to the menu in the chain's 86-year history.
Bob Das, KFC's corporate chef for 16 years, said his team has worked since last March to perfect the flavor. "We made 50 to 70 versions of it before we got it just right."
Related: KFC is bringing back Colonel Sanders
Hochman said the chain also designed special containers for it to easily allow people to dip their biscuit in the dish's spicy sauce.
An individual Nashville Hot Chicken meal (with two pieces or a three-piece tenders basket, coleslaw, pickles, and a biscuit) costs $5.49 to $5.99.
An 8-piece chicken meal or 12-piece tenders meal (with two large sides of mashed potato and coleslaw and four biscuits) cost $21.99 to $29.99.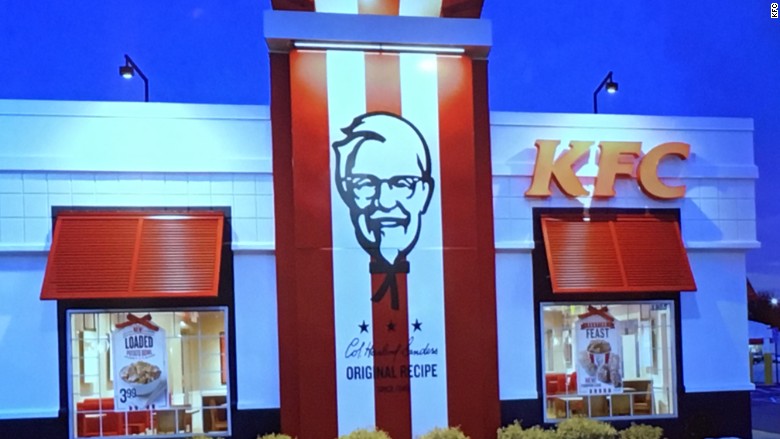 KFC, a division of Yum Brands (YUM), is in the midst of a brand resurrection as it tries to spur sales and keep itself relevant with Gen Xers who've grown up with the brand and also attract younger consumers.
Last year the company brought back the iconic Colonel Sanders in its ad campaigns. It also rolled out a video game based on Colonel Sanders' life called ColonelQuest and participated in the Macy's Thanksgiving Day parade for the first time with a float that featured Colonel Sanders.
Related: McDonald's testing mac and cheese for menu
Hochman said KFC stores are being remodeled and 75% of all locations in the U.S. will have a fresh, updated look in the next three years.