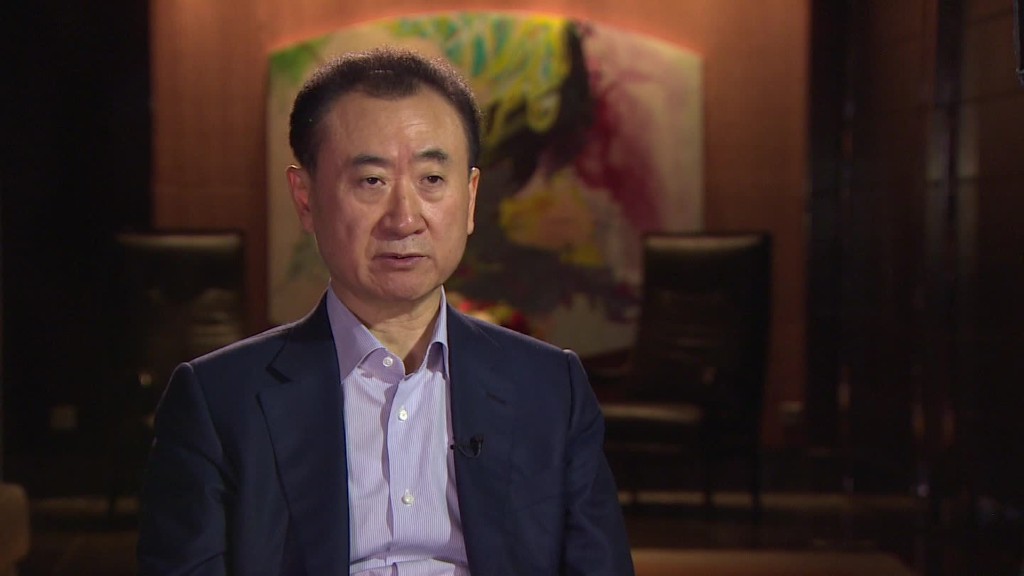 Business may be getting tougher in China's slowing economy, but the country's richest man says he's not worried.
"I am optimistic, because I see more opportunities than the others," Wang Jianlin, the chairman of the giant conglomerate Dalian Wanda Group, told CNN on Tuesday.
A former soldier who likes to sing to his employees at company events, Wang says he's gradually shifting away from the Chinese real estate sector, where his business career began, into more dynamic industries. And he's looking overseas for inspiration.
Wang had a lengthy career in the army before leaving to work as a local government official in the industrial city of Dalian. He then ditched politics for business, venturing into the private sector of China's rapidly developing economy in 1988.
In less than 30 years, he's built Wanda into a formidable real estate and entertainment empire that generated revenue of about $44 billion last year.
Despite taking a hit during China's stock market turmoil last year, Wang still eclipsed the likes of Alibaba's Jack Ma to rank as the country's richest person, with personal wealth estimated at roughly $30 billion.
But after benefiting from decades of double-digit expansion in China, Wang is now facing the same question that's unsettling a lot of investors around the world: What's going to happen as China's economy cools down?
He rejects the idea of a sudden collapse in growth.
"There will not be a hard landing at all for China's economy," he said. "The main reason is there is vast demand for the service industry."
Related: China posts slowest annual growth in 25 years
He acknowledged, though, that the coming years will be "a bit difficult" for the world's second largest economy as it transitions. Officials in Beijing want to move away from relying on exports and investment for growth and shift toward services and demand from consumers.
Wang says that's fine by him.
"Many people focus on the traditional industries and become pessimistic," he said. "But I jumped out of the traditional industries and focus on the strategic new industries of movies, sports, tourism, children's entertainment and the Internet -- and I discovered that there are opportunities everywhere."
His multibillion-dollar moves in the entertainment industry have reached into the United States.
Wanda acquired the cinema chain AMC in 2012 and recently announced a deal to buy the Hollywood studio Legendary Entertainment, which made blockbuster movies like "Jurassic World" and "Godzilla."
Related: China's richest man buys Hollywood studio
In Europe, the company owns Sunseeker, the British luxury yacht maker that builds vessels for James Bond films, as well as 20% of the Spanish soccer team Atletico Madrid.
The group has also undertaken major real estate projects in cities like Chicago, Los Angeles and London. But in Chinese property, the once booming sector where Wang made his fortune, he doesn't see a bright future.
"I am not optimistic about the long-term prospect of this market," he said. "Therefore we will gradually reduce our business in this regard."
His company forecasts that the real estate business will drag down overall revenues by 12% this year but without hurting profits.
Wang's goal is to have a company with revenues of $100 billion by 2020. To help spur more growth, he's looking abroad for further acquisitions in the newer industries he favors.
"Be it sports, entertainment or tourism, the upstream players in the market are all in Europe and America, therefore we must combine the China market with the foreign market players," Wang said, declining to name any specific targets.
And he's not putting a limit on how much he's willing to spend.
"We do not have any budget caps on our investment in the overseas market," he said. "Whenever we come across a good company, we can always consider acquiring it."