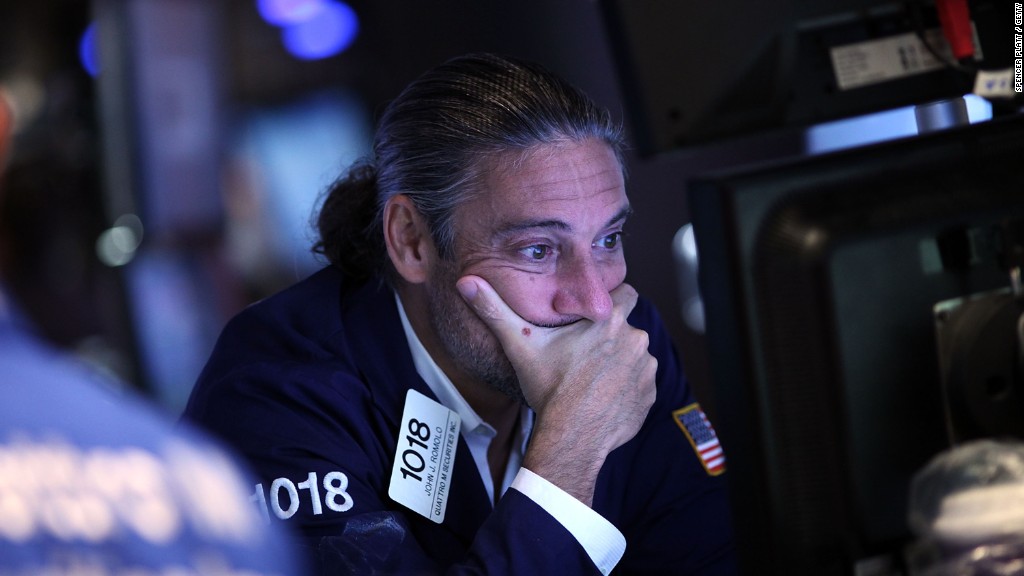 Anyone with money in the market can tell you what's been going on with stocks since January 1: down, down, down.
Hardly anyone is buying stocks.
To turn this selloff around, investors need oil prices to stabilize.
Oil and stocks are locked in an intense tango. In the past month, the correlation between stocks (S&P 500) and crude oil prices has spiked to 96%. That's highly unusual given that over the past decade that correlation is 0%.
Related: Stocks hit 15-month lows
No doubt oil is driving the wild market swings and needs to calm down for markets to turn around.
However, another key factor at play is that the usual "bargain buyers" aren't jumping in during big selloff moments. Those are the big buyers who have longer-term horizons.
Sovereign wealth funds are among those buyers. They know that stocks are likely to be higher years from now, and they are able to wait out the volatility.
Related: Why China doesn't know what it's doing
But sovereign wealth funds are under pressure, too. Many of these funds were built on oil fortunes. As oil prices plummet, these fund are acting a lot more conservatively than in the past.
"The large decline in oil prices that we have seen since mid-2014 has resulted in [some] countries withdrawing a substantial amount of money from their sovereign wealth funds, as their public finances and economies have deteriorated," wrote Capital Economics in a note this week.
Related: Worried about stocks? Smart investors do these 3 things
In fact, oil has become a bigger market mover now than China.
If anything, the China story is a proxy for oil. China's economic slowdown reverberates around the world because the world's second-largest economy is no longer buying as much oil, aluminum, copper, etc. That only sends commodity prices down further.
There's little sign of a bottom yet for oil. Crude oil fell below $27 a barrel Wednesday for the first time since since 2003.
A look at the biggest loser stocks this year is like a roll call of Big Energy players: Marathon Oil (MRO) (-43% year-to-date), Williams Companies (WMB) (-43%), Consol Energy (CNX) (-42%), Anadarko Petroleum (APC) (-40%). The energy and materials sectors are both down 15% since the start of the year.
It's became almost a game for experts to slash their predictions as low as possible. Some now say it could go to $10 a barrel.
Related: The party is over: Wall Street bonuses are down
Eventually, oil producers will stop drilling. But right now, OPEC and American companies believe it's better to keep pumping -- even at a loss -- in order to maintain their market share.
On top of that, Iran has returned to the market after many international sanctions were finally lifted in recent days. Now even more oil is flooding the global market.
"I do think we're near a bottom, but we're probably not going to move up much over the next three or four months," says Mike Lynch, president of Strategic Energy and Economic Research. He has followed the energy market for four decades.
Until then, markets are likely to fall further.