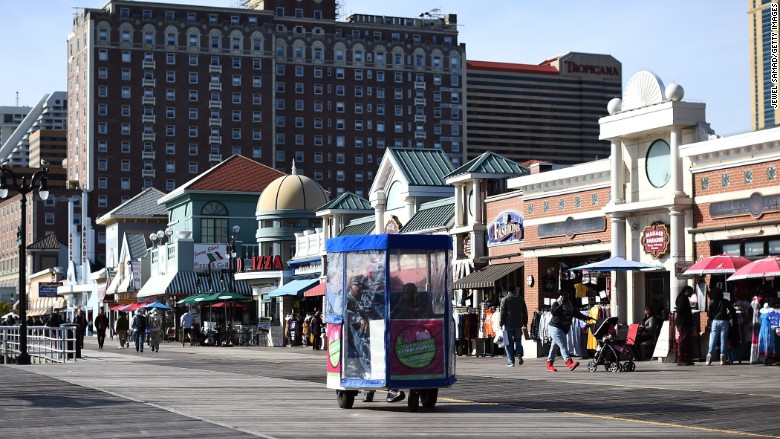 "Bankruptcy is now back on the table."
That's what Atlantic City Mayor Don Guardian said on Tuesday about the city's future if New Jersey doesn't secure funding soon.
Atlantic City has been struggling financially for the past few years -- its gambling revenue dropped by 8% in 2014. Four of the eight casinos that line the city's hallmark boardwalk shuttered under tough competition from casinos in nearby states and the city lost 8,000 jobs.
Guardian's comments about possible bankruptcy come after New Jersey Governor Chris Christie rejected state legislation that would have helped the city financially.
Related: Nevada casinos hit by massive losses
The proposed legislation that Christie vetoed would have assisted the struggling city -- funds from the casinos that normally go to the state would have been redirected to the city.
The bill would have allowed casinos to pay an annual lump sum instead of taxes. It also would have protected casinos from tax appeals that have hurt their total assessed value.
"All of us worked hard on the passage of this bill for over 18 months," Guardian said. "So much time was wasted. And today, we finally have received that answer from the Governor."
Related: Chris Christie's problem: New Jersey's economy isn't doing well
Christie's office explained his decision in a statement.
"Atlantic City government has been given over five years and two city administrations to deal with its structural budget issues and excessive spending. It has not. The Governor is not going to ask the taxpayers to continue to be enablers in this waste and abuse," the statement said.
After the veto, Guardian voiced concerns about a state takeover, which would give New Jersey total control over Atlantic City's finances. It could also make a bankruptcy unnecessary.
However, Guardian made it clear he did not support such a course.
"We are fighting a State takeover," Guardian said. "[W]e will not tolerate the stripping of our God-given civil rights and right to self-governance. Atlantic City has worked too hard and has come too far to let that happen. This above all, will be our priority."