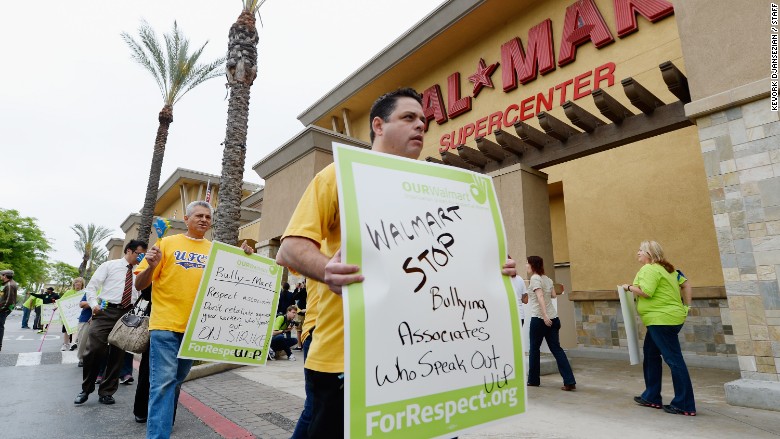 Walmart broke the law by firing workers who protested outside its headquarters in 2013, a labor judge ruled on Thursday.
An administrative law judge ordered Walmart (WMT) to give 16 workers their jobs back and pay them for the time they went without work. Walmart must also hold a company meeting at 29 stores to inform workers of their right to strike.
Walmart refused to allow its associates to strike, and it fired and disciplined workers at 29 stores for unexcused absences.
Workers claimed their right to strike was protected by the National Labor Relations Act. On Thursday, Administrative Law Judge Geoffrey Carter sided with workers, saying that Walmart unfairly retaliated against its associates.
The mega retail chain and its ex-employees have been arguing their case before the National Labor Relations Board, which investigates unfair labor practices.
The employees banded together as "OUR Walmart" and waged a campaign for better pay and working conditions in 2013. Many of them took part in the "Ride for Respect," traveling by bus to protest outside Walmart's national headquarters during the company's annual shareholders meeting that year.
Labor advocates at "Making Change at Walmart" celebrated the victory.
"Today's decision proves beyond doubt that Walmart unlawfully fired, threatened, and disciplined hard-working employees simply for speaking out," Jess Levin, the group's spokesperson, said in a statement. "It sends a message to Walmart that its workers cannot be silenced."
Walmart said it plans to appeal the decision.
"We will pursue all of our options to defend the company because we believe our actions were legal and justified," company spokesman Kory Lundberg said in a statement.