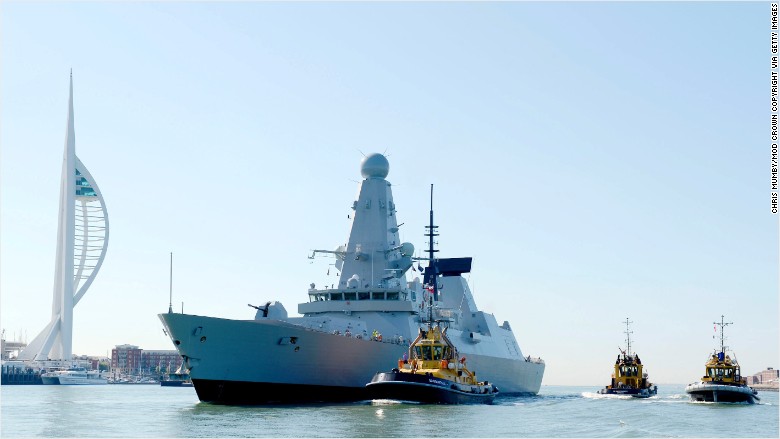 Britain may soon be facing a big bill to fix some its most modern warships.
All six of the Royal Navy's newest destroyers, which cost £1 billion ($1.4 billion) each, are losing power at sea.
The problems were first reported by the BBC. It quoted an email from an anonymous navy officer saying "total electric failures are common" on the ships.
A spokesperson for BAE Systems (BAESY), the main contractor building the Type 45 destroyers, told CNNMoney that some parts of the ships "aren't performing" and "providing adequate power and propulsion."
A team of specialists has been working for months to suggest fixes and upgrades, the BAE spokesperson said.
The U.K.'s Ministry of Defence said it was committed to improving power and propulsion systems to "ensure availability and resilience throughout the remainder of the life of the [ship]."
The Type 45 destroyers first went into service in 2006, and are due to last 30 years.
Rolls-Royce (RYCEY) supplied the gas turbines and General Electric (GE) provided further parts and services. Neither company was immediately available to comment.
The ships, which include special missile systems, are the backbone of the Royal Navy's air defense capability.
The purchase of the Type 45 ships was first approved in 2000. The government wanted to buy 12 but had to settle for six as costs spiraled out of control.
Fixing the problems could cost tens of millions of pounds, according to reports. The Ministry of Defence said it was too early to "speculate on costs."
The Royal Navy isn't alone in having problems with its ships.
The U.S. Navy's newest class of warship, the littoral combat ship, has also suffered breakdowns. The Navy is investigating the problems affecting these ships, which cost about $360 million each.