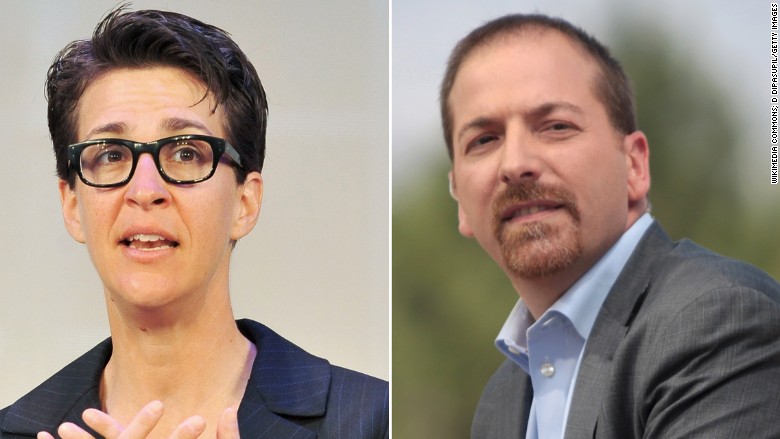 Up until last month, MSNBC was facing a debate-less 2016 presidential race.
Because of Republican wariness about the historically liberal network and a limited Democratic debate schedule, the network that dubs itself "the place for politics" was set to take a back-seat to one of the most historic presidential contests in modern history.
That changed on January 19 when NBC's Chuck Todd received a call from Trent Spiner, the executive editor of the New Hampshire Union Leader. The two men hatched a plan to hold a debate in the Granite State, setting off a week of negotiations with the campaigns and the Democratic National Committee. That was followed by a week-long game of chicken between the Bernie Sanders and Hillary Clinton campaigns.
Finally, last Friday, the DNC privately indicated to MSNBC that it would sanction the February 4 debate, sources with knowledge of the situation told CNNMoney. The news wouldn't be announced until February 3, after the Sanders and Clinton campaigns had hashed out agreements for future debates, but behind the scenes the DNC's logo was already being etched into glass for the debate stage backdrop.
Related: CNN simulcasting next week's PBS Democratic debate
Now the pressure is on Todd and his co-moderator Rachel Maddow, who have been scrambling to prepare for an impromptu event that could be key to NBC and MSNBC's success during the 2016 campaign cycle.
The pressure on MSNBC is immense. Along with election nights, debates are the highest-rated events a cable news network can hope for in a campaign season, and a strong showing is key to winning return viewers. But a major misstep could be disastrous for a network that has already suffered from waning viewership in recent years.
Related: Hillary Clinton and Bernie Sanders agree to four more debates
There is even greater pressure on parent-company NBCUniversal, which has already endured a rough campaign season.
In October, CNBC was widely criticized by Republicans for its moderators handling of the third GOP primary debate. "CNBC's moderators engaged in a series of 'gotcha' questions, petty and mean-spirited in tone, and designed to embarrass our candidates," Republican National Committee Chairman Reince Priebus said at the time.
CNBC's poor showing resulted in the RNC's decision to revoke NBC News' rights to the Republican debate they were supposed to host in late February. That debate was instead given to CNN, leaving NBC News without a GOP debate in 2016.
Related: Who won the ratings race: Fox News or Donald Trump?
NBC also got on the bad side of the Democrats when it proposed Thursday night's debate in New Hampshire without pre-approval from the party. "The DNC was upset with MSNBC for doing this, for going behind their back," Spiner told CNNMoney.
In short, Thursday night is the night for MSNBC to stake a claim on a presidential campaign that has so far left it marginalized, and for NBCUniversal to reclaim its good standing with at least one of the nation's two political parties.